Oil is a source of fat essential for the body to survive and function well, but not all oils are created equal.
The Bible often mentions oils, a symbol of God's presence for healing, for anointing, and for blessings. Holy oils are indispensable in the Church's life, rich in tradition, history, and spiritual symbolism.
Oils also play a role in the physical health of the human person. The oils we consume and cook with are a source of fat essential in the right quantities for the body to survive and function well. They can be rich in substances that our bodies need to stay healthy, but do not naturally produce, such as omega 3 and omega 6 fats.
Not all oils are created equal, however. For a healthy lifestyle, we need to appreciate what makes each oil different. No oil is perfectly suited for all uses, so we must choose carefully. Being informed will help us to be more selective and to use a particular oil for the correct purpose and in the right amounts.
Oils and unsaturated fats
Cooking oils, mostly plant-based vegetable oils, enhance the taste of our food. They are predominately unsaturated fats, referred to as healthy fats: They liquify at room temperature. By contrast, saturated fats like butter solidify at room temperature.
Choose cold-pressed and organic oils
The first and most important fact to remember is that the healthiest oils will be cold-pressed and organic, so you should give preference to them, if your budget allows. When an oil is cold-pressed, it means that no heat has been used in the extraction process. As a general rule, the less an oil has to be processed, the healthier it will be for you.
Smoke points and cooking
Essential to consider, too, is that oils behave differently when heated. No matter how good an oil is, it will burn: some oils are better suited for higher temperatures and others for lower heat. This difference in smoke points is crucial when choosing our oils and cooking methods, as we don't want to end up with burnt, bitter, and unhealthy food.
Let's look at some of the most common oils available in supermarkets today.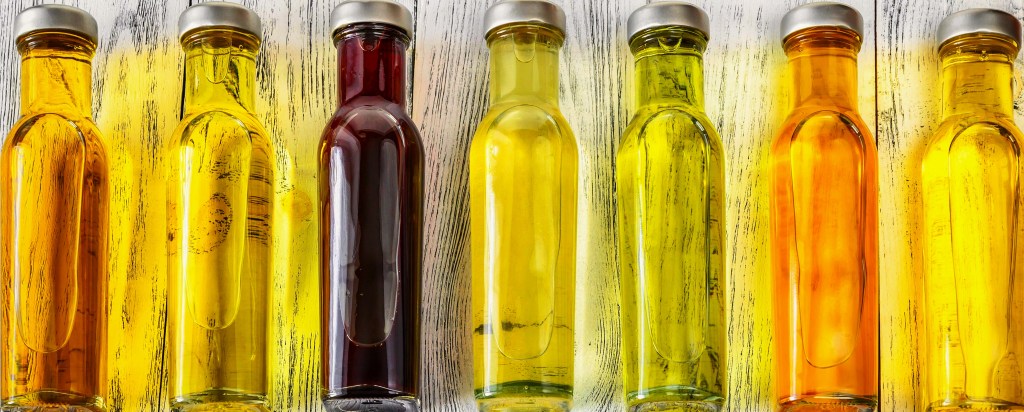 Alexander Prokopenko | Shutterstock
OLIVE OIL
Olive Oil is the central fat used in Mediterranean cuisine, recognized as the best science-backed eating style. Natural and extracted from olives, the oil, with its wide range of flavors and aromas, is perfect for cooking. As it has a lower smoking point than most oils, it's best not to use olive oil at high temperatures and cook the food for a long time.
When buying olive oil, ignore containers labeled pure olive oil or light olive oil. There are lots of counterfeit and adulterated olive oils on the market.
Pick up instead the bottle labeled extra virgin olive oil or virgin olive oil. It tells you that you are getting the highest grade of olive oil without any added chemicals. Virgin olive oil is pure fruit juice obtained under strict extraction processes.
PALM OIL
Palm oil comes from pressing the fruit of the palm tree. Manufacturers love palm oil because it's cheap, stable at high temperatures, and versatile. But with a composition of 50% saturated fatty acids and little omega 3 – the three fatty acids essential for our health — palm oil is not a healthy alternative for a wholesome diet.
Another problem with palm oil is that it directly threatens nature. Palm oil production in countries such as Malaysia and Indonesia has caused severe deforestation, thus harming the ecosystem and animal life.
COCONUT OIL
Coconut oil is extracted either from fresh coconut or dried coconut meat. It is rich in saturated medium chained fatty acids, which scientists say provide a quick energy source and a few positive health benefits.
Its low melting point and high saturated fat content cause coconut oil to solidify in the winter. Be wary of virgin and extra virgin on the labels when buying coconut oil: unlike olive oil, there are no strict regulations regarding processing coconut oil. Use coconut oil sparingly in the kitchen – its saturated fat content is high.
FLAXSEED OIL
Flaxseed oil, also known as linseed oil, comes from dried seeds of the flax plant. It contains 50% omega 3's, making it reasonably healthy but not the tastiest oil.
Linseed oil shouldn't be used for cooking as heat changes its healthy fat content, and because of its low smoke point, food will burn, leaving a bitter taste.
Because of its disagreeable taste, linseed oil is best mixed with other oil, as in a vinaigrette – 1/3 linseed oil and 2/3 olive oil, for example.
PEANUT & GROUNDNUT OILS
Groundnut oil heats well, thus a good choice for frying. It comes from the seed of the peanut plant. Peanut oil has no omega 3s. Love it, though, for its nutty great taste and low cholesterol level.
CANOLA & RAPESEED OILS
Canola oil and rapeseed oil have the exact origin. Both come from the rapeseed plant, a member of the cabbage family. Canola is genetically modified rapeseed oil created in Canada in 1970.
Cooks like rapeseed oil because it's affordable, versatile, and has a high smoke point.
The downside of rapeseed oil? The oil is highly refined, involving synthetic chemicals to extract the oil. Like most refined oils, it has a neutral taste but will lose some inherent health benefits.
SUNFLOWER AND CORN OILS
These oils contain more than 50% of omega 6 that nutritionists say can cause inflammation in the body. Some medical experts now disagree, but the safest choice may be to limit our consumption of these oils or mix them with other oils with a larger amount of omega 3.
Sunflower oil is produced from hybrid plants and has a composition similar to olive oil. However, it can be hard to find these oils cold-pressed.
SOYBEAN OIL
The majority of soybean oils available are highly refined, so it's best to buy cold-pressed soybean or organic soybean oil to assure the best nutritional value such as its high omega 3 content. Restaurant fast food chefs like soybean oil for its high smoking point and neutral flavor. 
Be aware though of the different oil combinations labeled in some countries as "Vegetable Oil," which is generally soybean oil mixed with other vegetable-based oils. This might not give you the healthiest combination of oils.
COD LIVER OIL
Extracted from the liver of the cod and filtered for purity, cod liver oil is rich in omega 3 with a good supply of vitamin A and vitamin D. The taste, however, is not great and is best taken in capsule form.
A final word of advice
When purchasing oils, the most important thing is to read the content label carefully to see exactly what you are getting. Alternating, mixing and varying the different oils allows us to appreciate new flavors and to create a healthy lifestyle. 
---
Editor's note: To learn more about the benefits and uses of olive oil, we suggest you check out the book Alice Alech co-authored with Cécile Le Galliard, The 7 Wonders of Olive Oil.