Some accounts claim that Basil was just trying to give charity to the poor without embarrassing them.
Vasilopita, St. Basil's pie, is a New Year's Day bread (or cake, or pie) that is made in Greece and many other areas in eastern Europe and the Balkans. Even though it is mainly made for New Year's Day (that is, for the Feast of St. Basil), it can also be baked throughout the year –and found at your local Greek bakery. As is the case with some versions of Fanouropita (St. Fanourious' bread), Vasilopita contains a hidden coin (or a trinket) which is said to give good luck to the receiver – as with the Western roscón de reyes or King Cake, traditionally served at the Epiphany. In fact, in some regions, Vasilopita (or any other cakes containing a coin) are related to the Epiphany or even to Christmas.
Vasilopita is made of different doughs, depending on regional and family tradition. For example, some families use a custard base called galatopita (literally, "milk bread") instead of dough. In Thessaly, a pork-filled phyllo pie called Chronópita ("time's pie" and, by extension, "New Year's pie") also features a hidden coin.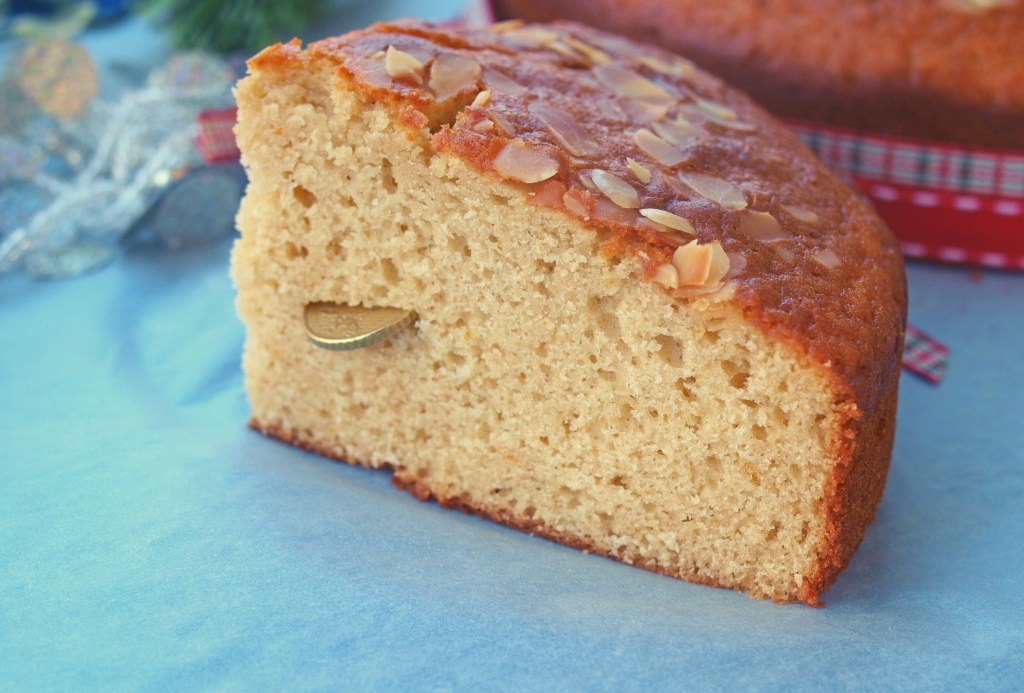 The coin in the vasilopita is associated with a very specific passage of the life of Basil of Caesarea. According to tradition, Basil called on the Roman citizens of Caesarea to raise a ransom payment to stop a siege. Each and every citizen gave whatever they had in gold and jewelry. When the ransom was raised, the enemy was so embarrassed by this act of collective giving that the siege was called off without collecting payment. Basil was then tasked with returning the unpaid ransom, but he obviously had no way to know which items belonged to which family. He then baked all the jewelry into loaves of bread, and distributed the loaves to the city, and by a miracle each citizen received their exact share.
However, there are very few sources that can back this version of the facts. Some other accounts claim that Basil was just trying to give charity to the poor without embarrassing them – which makes more sense, considering the many testimonies of Basil's generosity and sympathy.