If you're not familiar with this talented modern-day artist doing God's work through his paintings, let me introduce you to Tommy Canning.
Churches all over Melbourne, Australia, have hanging on the wall an incredibly powerful image of God's Divine Mercy.
As a man kneels in a confessional, Christ stands behind the priest on the other side of the screen. Rays of mercy emanate from Jesus' Sacred Heart through the priest's raised hand, to reach and heal the kneeling penitent.
This painting, The Tribunal of Mercy, is a powerful and beautiful depiction of Christ's saving grace. Even more inspiring than the painting is the man who made it, Tommy Canning. 
I first learned about Canning from an article in Melbourne Catholic, "From comic books to sacred art: the way of beauty with Tommy Canning." After reading his incredible story, I reached out to learn more.
If you're not familiar with this talented modern-day artist doing God's work through his paintings, let me introduce you to Tommy Canning. 
Canning grew up the youngest of five boys in Glasgow, Scotland, in a Catholic home. His father died when he was only 4, but his mother, brothers, teachers and friends encouraged his artistic ambition from a young age.
"It can't be stressed enough how important it is to have a supportive community," he said in an interview. "For me it begins with my own family, especially my late mother and older brother Allan, who has been a great support in so many ways. I've been very blessed in that regard."
Early success as an artist
From the time Canning could hold a pencil, he knew he wanted to be an artist.
"I would always be found at some point of the day with a pen or pencil in hand, drawing something from a comic book usually," he reminisced. "From as early an age as I can remember, I was drawing. I had a very active imagination. My older brothers all had varying degrees of artistic ability, and I would try to copy their drawings of cartoon characters and superheroes."
But sacred art wasn't on his radar. By age 15, he wanted to make comic books.
"Being immersed in the comic book world and sci-fi and fantasy comics and movie genres that were exploding in the 70s and 80s," he said, "it became my desire to work towards getting into comics and illustration as a professional."
He didn't go to art school, something which makes his later achievements all the more remarkable. But he undertook a different sort of apprenticeship making comic books for his favorite sports team, and these were an unexpected huge success. 
By age 17 he landed his first contract with a major publisher in Scotland to illustrate a comic book history of the Glasgow Celtic football club for the club's centenary year, a book he wrote with his brother Patrick. "We came from a family of big lifelong generational Celtic fans and so this was also a labor of love for us both," he said.
They co-authored another comic book history on one of the big clubs in England, Newcastle United, in collaboration with a club historian. The book projects were a crash course in art and publishing.
"To have had two books published — that involved a Herculean effort to complete by the age of 19, as a self-taught un-lettered inexperienced artist it was an incredible achievement," Canning said. "I had planted my flag."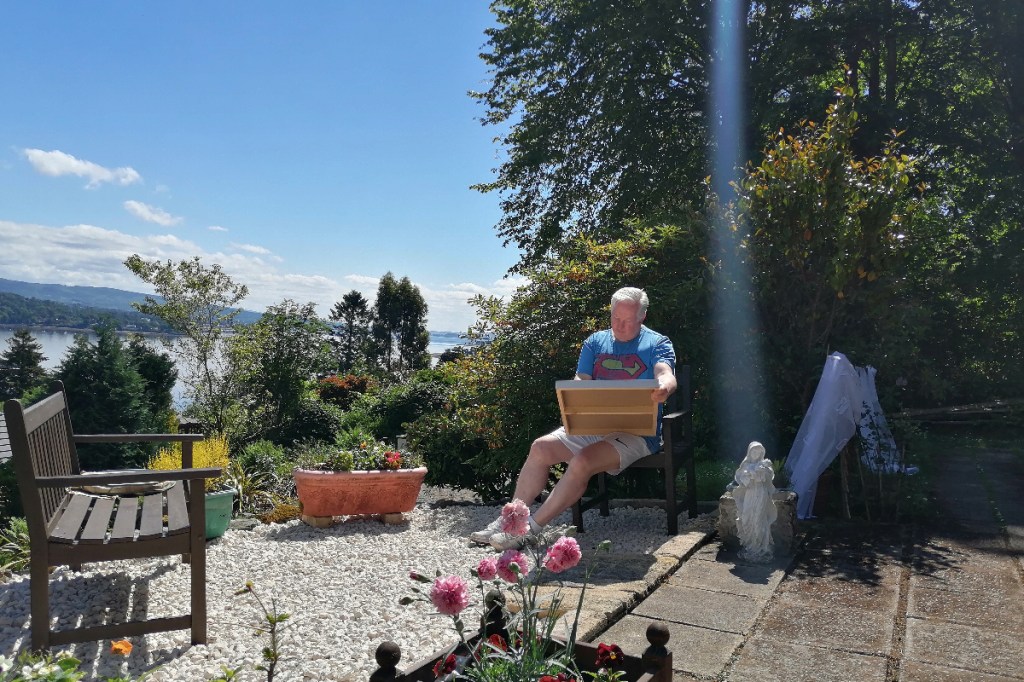 Courtesy of Tommy Canning
Conversion in Rome
Although he grew up Catholic, his faith became his own when he traveled to Rome at age 19. He calls that trip his "Damascus experience," recalling St. Paul's conversion on the road to Damascus. He told Melbourne Catholic:
I was knocked off my horse and blinded by the beauty in Rome, and that completely reprogrammed my thinking. It shifted me ideologically, going from a lukewarm Sunday Catholic, going through the motions, to believing that only God, only the God of the Catholic faith, can inspire this kind of beauty. Nothing holds a candle to it.
After that trip, he began creating beautiful sacred art. Slowly his work grew in popularity, and a big breakthrough came at a remarkable time. He took several years off from making art to care for his ailing mother before her death in 2009, and The Tribunal of Mercy was his first painting after her death.
"I dedicated that painting to her memory as she was such a rock of moral and spiritual support for me in my art," he said. "I was always very close to my mother; we were such great friends and shared a lot of common spiritual interests. She was always an inspiration to me looking back, as this mother who as a young widow raised five boys as she did. Remarkable lady."
In a great stroke of luck (or providence), The Tribunal of Mercy went viral and cemented his name as a sacred artist. A priest friend, Father Andrew Grace from the parish of Sacred Heart in Griffith, inspired him with the idea. 
But Canning's measure of achievement is not what the world calls success. "Success for me was, if by the grace of God, I communicated some truth that moved or inspired an individual soul, drew them closer to Christ, then that was something truly beautiful, that was success."
Overcoming challenges
Working as a sacred artist is not an easy path. Besides naysayers who suggest he abandon this "impractical" work, there are the financial challenges of a freelance lifestyle, and at times Canning wrestles with the inner voice of self doubt and second-guessing.
But he's been blessed with a wonderfully supportive community not only in his native Scotland but also in Australia and New Zealand, and their encouragement helps him continue.
"The Lord put certain individuals at home or in Australia in my life at certain moments that have made it possible for me to keep going, and for that I shall be forever grateful," he said. "I owe everything I have achieved to God and their support."
He is convinced that overcoming these challenges is worth it, especially as a Catholic artist. He said:
Every day, I have to ignore the possibility that the vision I have dedicated my life to is a pipe dream. Why? Because any true artist has dedicated his entire life to a moment. A moment when they poured out their creative spirit and touched another's heart. That moment is worth a thousand lifetimes. This is what the Church has known and done through the centuries. It must not be lost.
He understands his mission as a Catholic artist in a special and profound way, inspired by reading the lives of the saints and especially those who meditated on sacred art. 
The artist is called to a sacred ministry within the Church, yet he can easily misunderstand the sanctity of his calling. He may be satisfied with a religiously successful image and conclude that he has fulfilled his function. The artist himself, along with every other believer, is to be formed into the image of the one who carried the cross and died on it.