Dylan Dupree told Aleteia about the arduous pilgrimage to Lisbon with gear in tow, but it was all worth it for the honor of taking the stage at WYD.
The Christian contemporary mother/son duo DUPREE put in quite a bit of work at World Youth Day 2023, taking the stage on four different occasions to entertain the millions of gathered Catholics with their unique brand of family-friendly and faith-focused music. The pair brought with them their brand-new album, Live Your Life Out Loud, which they were able to debut in grand fashion in Lisbon. 
Speaking to Aleteia, Dylan Dupree shared some of his experiences on his performing pilgrimage to Lisbon. Prior to their flight to Europe, the Duprees met a priest who was also making the journey to Portugal and the three became fast friends. When the priest learned they were playing as a band, however, he warned them that "it was not going to be an easy pilgrimage getting there and performing." As Dylan tells it, he was somewhat right. 
Due to the massive crowds of incoming pilgrims, the logistics of traveling sounded hectic to say the least. Dylan remarked that Uber drivers left them stranded on two different occasions. There, in the summer heat and on roads closed to the possibility of hailing another cab, Dylan and Lauren were left to do their own roadie work and lug their equipment up cobbled, hilly streets to their destination.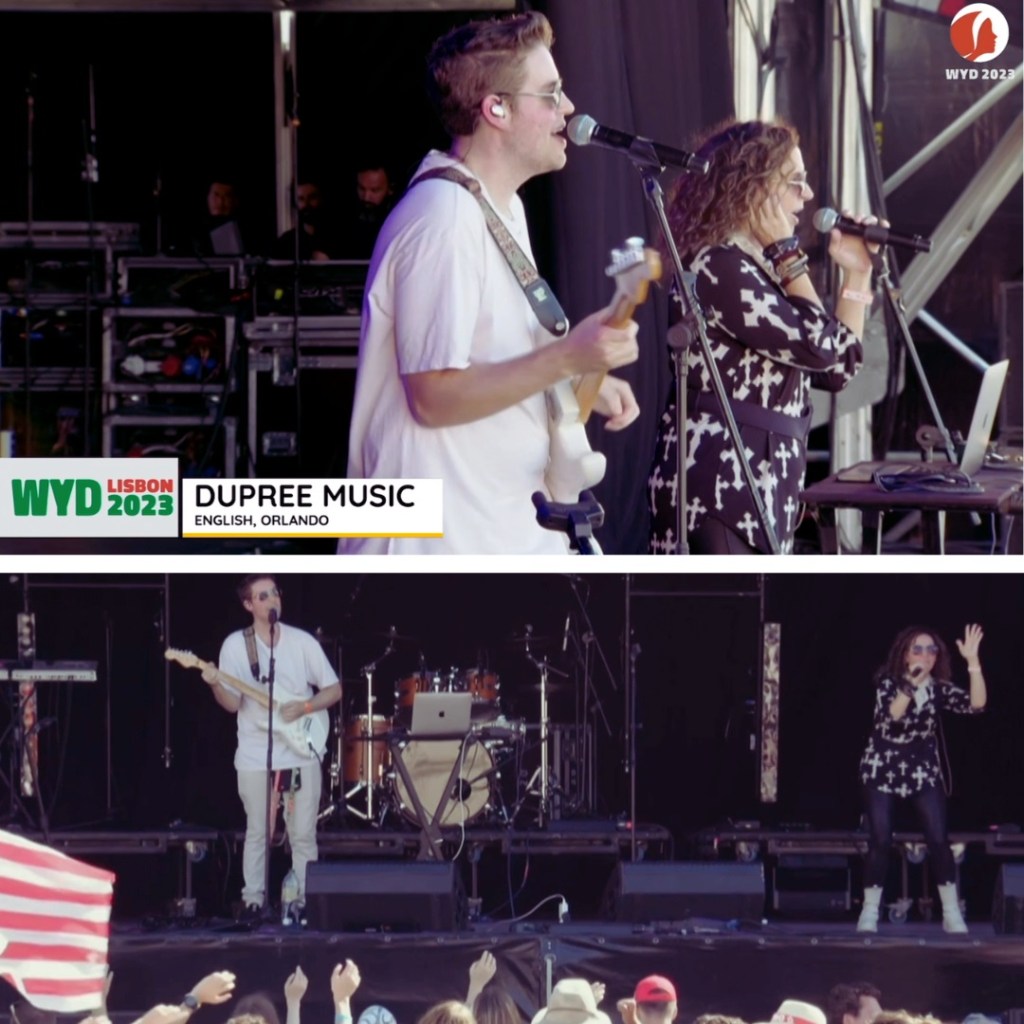 DUPREE | Provided
While the trek was laborious, Dylan said that the opportunity to perform before an international audience of Catholics was well worth the effort. He also noted that they were originally only scheduled for three performances, but they were so well received that they were asked to play a fourth: 
"Taking the stage at World Youth Day in Lisbon, Portugal, was a tremendous honor, performing four concerts for groups who made up a portion of the 1.5 million youth that are on fire for Jesus and their Catholic faith. It was fantastic to be a part of the largest gathering in the history of Lisbon. God is using our music and mother/son dynamic to follow in the example of Jesus and His mother and represent the family."
One of these concerts was performed from a stage at the top of a mountain, where DUPREE debuted one of their new songs, "Meet Me on the Mountain," a pop-rock Catholic anthem that feels like it was designed for audience participation, with directions for crowds to "stand up" and an upbeat rhythm to get the people clapping along.
That same priest from their flight happened to be in attendance at the mountaintop concert, which he revealed to the Duprees when they met him again on their flight home. Dylan commented that having the same priest bookend the trip felt like a sign from God:
"We had several instances where God was working to show us that we are being called to do this."
It's heartening to hear that the crowds of WYD responded so well to DUPREE's new album, because it is a well crafted work that is deserving of acclaim. Live Your Life Out Loud strikes a balance between Christian pop and prog-rock with elements of R&B peppered in. The eight-song album features catchy hooks that will leave listeners humming the tunes all day. "Can You Feel It (Change Gonna Come)" is a great example of such an infectious ear-worm: 
Of course, it's always worth mentioning the phenomenal skills of Dylan on the guitar, which drive DUPREE's songs with impeccable solos. No song on the album exhibits Dylan's instrumental prowess as well as "Awakening," a completely instrumental track that holds its own next to the works of virtuoso guitarists the likes of Steve Vai and Joe Satriani. After we heard this one, we had to check photos of Dylan to see if he had a sixth finger on his left hand. 
There's a whole lot more incredible music on Live Your Life Out Loud, which is available on all music streaming platforms. Click here to hear the entire album on Spotify; then, be sure to follow DUPREE on YouTube to keep up with all their releases.