I have a story to share about one of the Mexican martyrs from the Cristero War and some of my family members ...
St. José Isabel Flores (1866-1927) is one of the 25 Mexican martyrs from the Cristero War who were canonized on May 21, 2000, by Pope St. John Paul II. The following story involves him and some of my family members. 
On January 23, 2003, in the Hospital Civil de Guadalajara, Manuel Orozco, my grandfather, was needing open-heart surgery and wanted to receive the Sacrament of Penance before having the surgery. Several family members who were there with him were trying to contact their parish priest, but could not reach him.
All of a sudden, a young man dressed in a white robe and a face mask walked into the waiting room. My grandmother, Amparo, went up to him and greeted him saying, "How are you, Doctor?" The man responded, "I am not a doctor. I am a priest." He then took off the face mask and told her, "I came to confess Manuel." Amparo became very happy and she kissed his hand. She felt a great inexplicable emotion. She led the priest into the room where Manuel was and went back out to the waiting room, where several other family members were. Anyone who entered or left Manuel's room had to pass by them, but they never saw anyone leave the room. 
While the priest was confessing Manuel, one of the family members who had been able to contact the parish priest telephoned my uncle Julián Orozco, Manuel and Amparo's son, and told him that the parish priest could not make it. Julián had not been present in the waiting area so he did not know that a priest had in fact arrived.
When Amparo went a couple of hours later to visit with Manuel, she asked him, "How did it go with the priest?" He responded, "What priest did you send me? He left me with an immense peace. I feel free." 
Later that evening, Manuel went into the operating room for the surgery. Meanwhile, Julián was talking to his mother Amparo about how he was told that the parish priest did not end up going. She had thought all along that the priest who had been there to confess her husband was the parish priest. Now, there was some confusion as to who the priest was. They asked the nurses there to see if it was the hospital chaplain, but they said it was not. The question thus became more pressing.
They actually thought of Fr. José Isabel Flores being a possibility since they had a devotion to him, and, realizing that this might have been the case, they embraced each other. 
Early the next morning, after a successful surgery, Julián went into Manuel's room to see if he could find out who the priest was. He asked his father, "Do you remember the priest that was here yesterday?" Manuel replied, "Oh yes, how could I not remember him? What a priest." Julián explained the confusion regarding the identity of the priest. Julián then asked him, "Do you think that it was Fr. José…?" Manuel just closed his eyes and, relaxing, sighed deeply. Manuel then turned to the nurse and asked her, "Do you believe in miracles?" She said, "Yes, I do." He kept on breathing profoundly …
As the days passed, Manuel began to have complications. He got pneumonia and passed away on February 9, 2003. The funeral was two days later, and, after having buried Manuel, Amparo returned to her home to look for a picture of a young Father José Isabel Flores. When she found it, she knew that she was looking upon the same face she had seen only two and a half weeks before in the hospital. The priest who had visited her husband had indeed been St. José Isabel Flores …
This miraculous event is not a surprising one since it was known that, during his earthly ministry, St. José Isabel Flores "mortified and sacrificed himself for his faithful and he did not want someone to die without a confession…" [Congregatio Pro Causis Sanctorum, Sobre el S. De D. José Isabel Flores, Op. Cit., p. 311. A personal translation.]
Also, he was the priest who baptized Manuel, so it is fitting that he be the priest to have given him his last sacrament, too. This holy priest has truly taken his eternal priesthood seriously!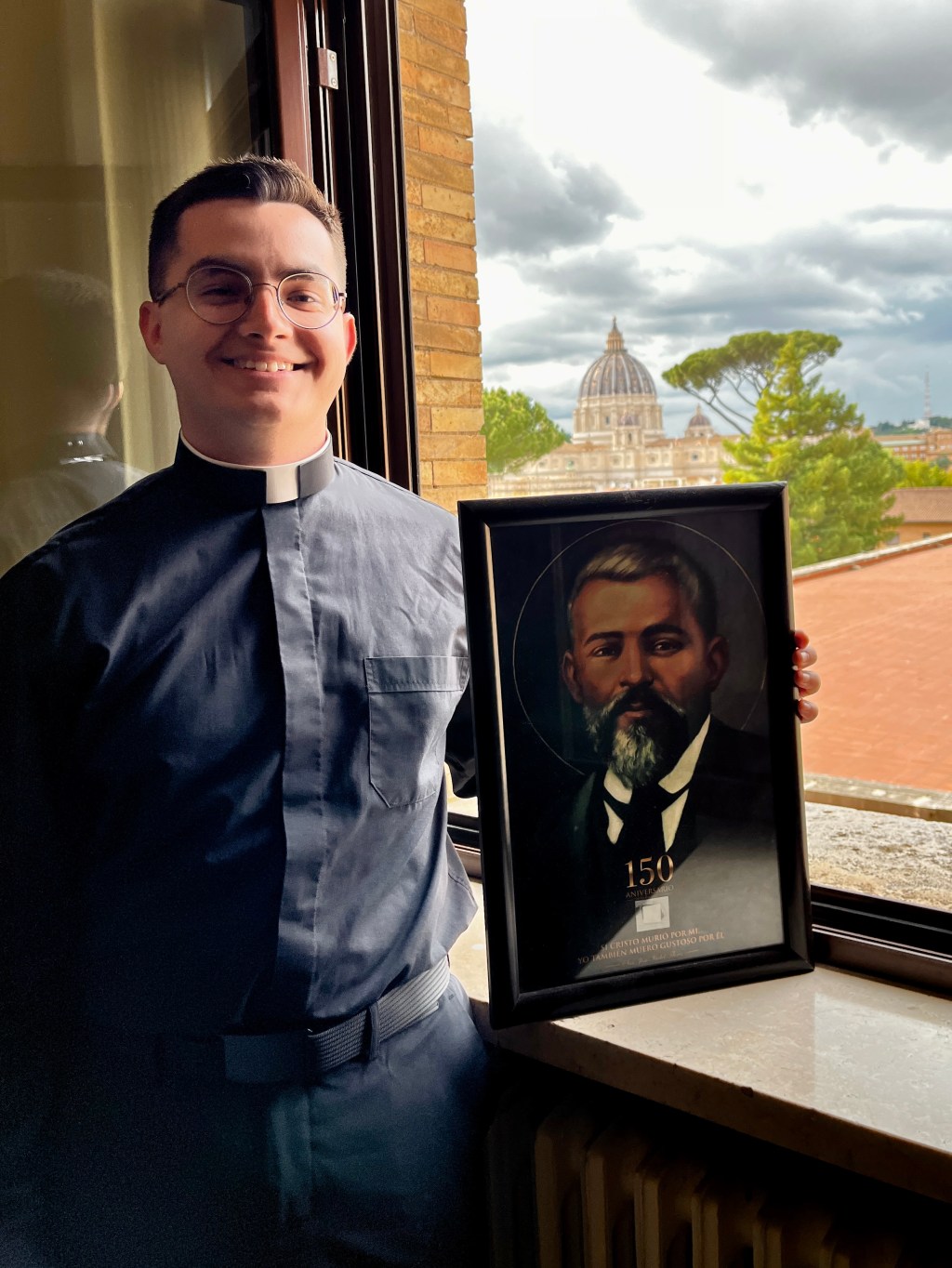 Courtesy of Mauricio Romero