A Brazilian boy connected his love for video games with another passion: the Catholic faith.
What does a 10-year-old kid like to do most? Playing video games is certainly high on the list for many kids. A Brazilian boy has connected this source of entertainment with another passion — his Catholic faith.
Rafael Gaborin Faria is 10 and has been interested in religion since he was very young. He has always liked to research the lives of the saints and dreams of visiting all the churches in the world. He has a strong devotion to Our Lady, and used to play at holding Mary's coronation at home. Then one day he decided to take this devotion to Minecraft (a video game where you acquire resources to build things such as houses and buildings, and thus ensure your character's survival).
Rafael started building, virtually, the Sacred Heart of Jesus Parish in Atibaia, the city where he lives in the state of São Paulo. It took two months of work (and fun, of course!). The result was amazing — the virtual scenario is very similar to the real physical place.
The boy also built a replica of the National Shrine of Our Lady of Aparecida. Details such as the altar, the facades, the hanging cross, and the niche of the patron saint of Brazil are very realistically depicted.
"We could see that he always wanted to spend more time in the video game than we allowed. But, as parents, we always accompanied him and knew he was doing a good thing," says Perla Gaborin Faria, Rafael's mother.
Evangelization through Minecraft
It was in these virtually built churches that the little boy found an opportunity to evangelize. In the midst of his daily routine, he sets some time aside to identify the Gospel of the day. Then he practices reading the Bible text and records the audio. Once this is done, it's time to post the video produced in the video game on his YouTube channel. The result is as if you were at the parish or shrine listening to the daily liturgy. He even virtually incenses the Gospel before the reading, with little pixelated curlicues representing the rising smoke. 
What started as a game with no great pretensions has become a success on the internet. After one of the videos with the daily Gospel was reposted in a Facebook group, Rafael's channel went from 66 subscribers to 10,000 subscribers in a single day! "I was very excited because I never thought that the channel would get to where it has," admits the boy.
"I started receiving a lot of messages on my cell phone and I thought he had done something wrong with his channel. I only understood what was happening when a friend informed us that people were commenting on Rafael's channel. We stopped to see and there were a lot of views and new subscribers arriving all the time," said his mother.
Since then, the followers of the evangelization channel haven't not stopped growing. Today, there are already 68,000 subscribers who follow the religious content produced in the video game on a daily basis. One of these videos took the Word of God to more than 103,000 people.
The videos are a success on the internet and also among Rafael's friends. Miguel, one of Rafael's classmates, is very proud of his friend. He has even spearheaded a campaign for the channel to reach 100,000 subscribers soon. "What Rafa does is a very important job. That's why we spread the videos on WhatsApp and ask people to share them and subscribe to the channel," says Miguel Ramos, also 10 years old.
For Rafael's mother, the boy's initiative is a true mission. "I always saw that Rafa had a greater interest in things of God than other children. And I thought that he would have a mission in this area. And God has been showing us little by little that his mission is to evangelize," comments Perla Gaborin.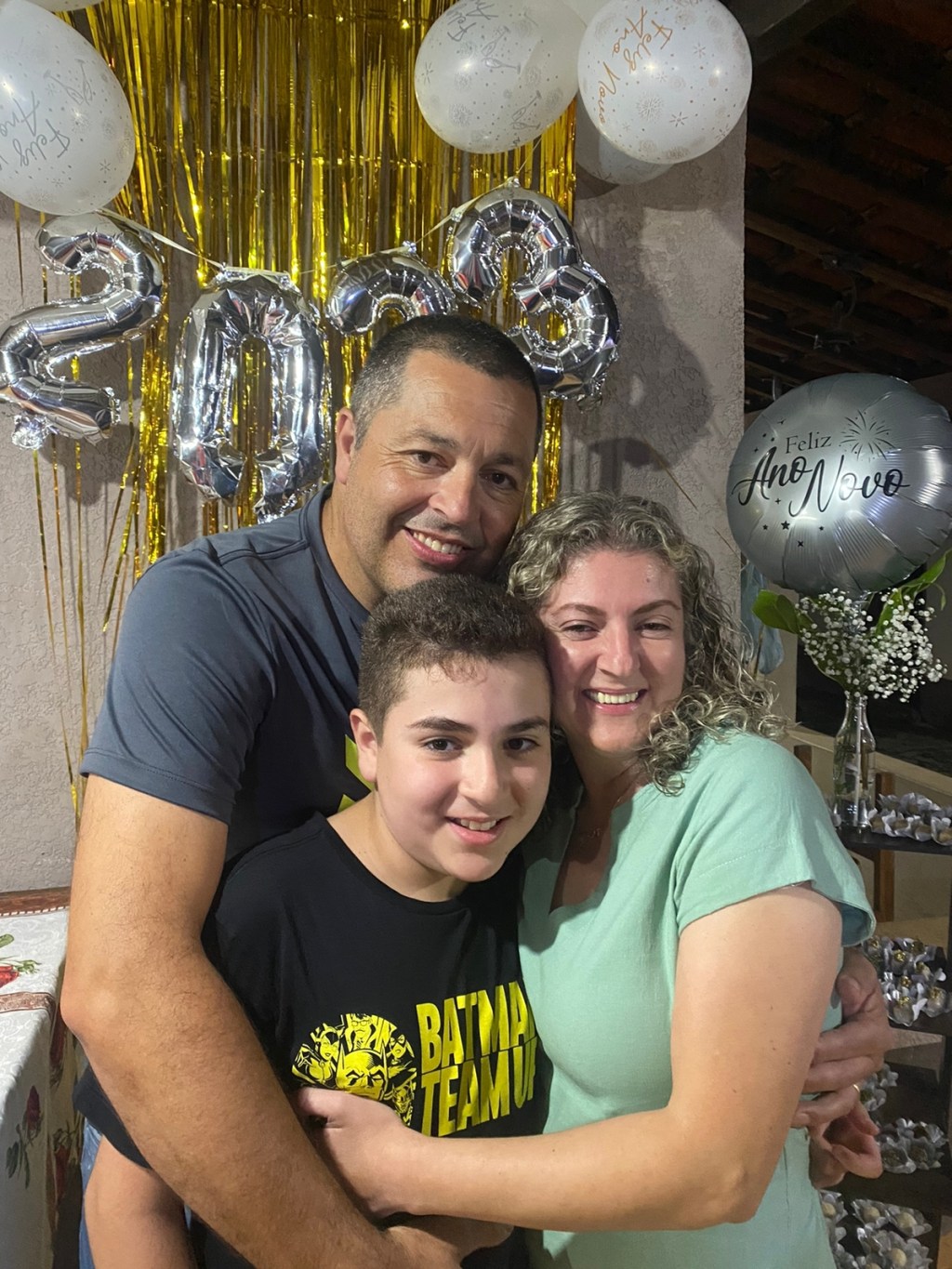 Cortesia / Perla Gaborin
The challenges of the mission
Like every missionary, Rafael also faces difficulties. He has rhinitis, and many times his voice isn't very good during the recording. In addition, he lacks adequate tools to produce the videos. Everything is done in a makeshift way, since the family doesn't have a computer at home. Rafael builds his evangelization material on an old video game player that his father bought second-hand. He then edits the videos on an outdated cell phone. The headset with a microphone was a gift from a subscriber to the channel who had complained that the channel's audio wasn't good.
Despite so many obstacles, Rafael hasn't given up: "I have this commitment to my subscribers and I also like what I do. So, even with the difficulties and even if the videos have low views, I never stop posting," explains the boy.
"I always tell him that the things we do for God must be done with love and well done, no matter the difficulties. And he follows it to the letter. We even ask him to slow down the production rhythm of the videos so as not to overload him, but he wants to produce every day," explains his mom.
Cortesia / Perla Gamborin
Portals of truth and faith
Little Rafael wasn't even born when Benedict XVI called on Christians to transform the social networks and the digital environment into spaces of evangelization, into "portals of truth and faith." However, the evangelizing initiative of this little Brazilian is in perfect synergy with this call, which has become a necessity and a great challenge today. And he knows it:
"What I do is very important because evangelization increases the number of people who believe in God. That's why I always tell my subscribers to never stop sharing the content of my channel and of others as well, because I'm Catholic, but I respect all other religions," he says.