These special books share inspiring truths in a kid-friendly way ... and they're illustrated with toy bricks!
Catholic publishers are absolutely crushing it lately with impressive children's books, and one book series is a "must have" for every Catholic kid who loves building with LEGO bricks. 
It's called Building Blocks of Faith, and this inspired work comes from Catholic parents Mary and Kevin O'Neill. 
What makes these books so special? Besides sharing tons of inspiring Catholic truths in a kid-friendly way, they're entirely illustrated with LEGO bricks!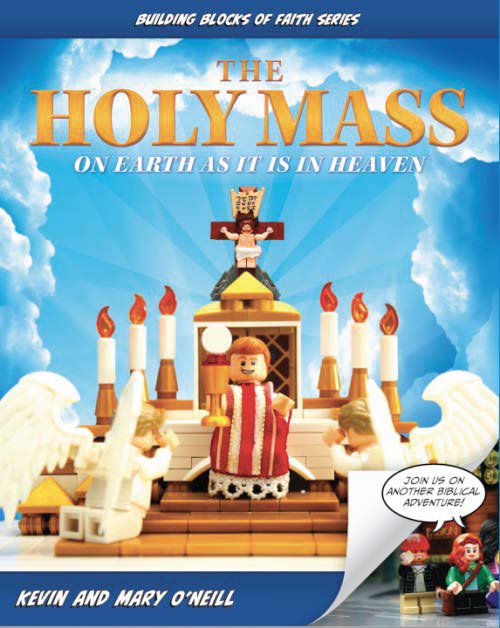 Courtesy of Mary O'Neill
The newest in the series is called The Holy Mass: On Earth As It Is In Heaven. It follows the hugely popular first book in the series, Catechism of the Seven Sacraments. 
As a Catholic mom and homeschool parent, I'm really picky about what books my children read. I am so impressed with these books!
My kids have learned so many amazing things about our faith from them, and they absolutely love to read them over and over. They would be perfect for your child's Easter basket!
Courtesy of Mary O'Neill
So what inspired the O'Neills to create this ambitious book series? Recently I had the chance to ask Mary O'Neill this exact question.
"Unfortunately we had a blasphemous book in our home called the Brick Bible that we had to get rid of," she said. [Note: We have written before about the so-called "Brick Bible," which is not at all suitable for children.] 
Courtesy of Mary O'Neill
"When our LEGO-loving son Liam continued to ask if he could just see some of the pictures, I told him that we would make a book," O'Neill said. "I had been giving a talk on the sacraments that focuses on typology, and so when the time came, we knew how to respond. The book is really just an illustrated version of my talk."
I can't even imagine how much work it took to build all those LEGO scenes for the book series! Sure enough, it was a vast undertaking and a true labor of love.
Courtesy of Mary O'Neill
O'Neill recalled,
We had no clue how to do anything, photos, Photoshop, or even how to create a background for the images. Our LEGO collection at the time was underwhelming, but we felt called to keep working on this project. 

Using this toy in this magnitude is an extremely messy project. We build every scene with an idea in mind and then the creative process tends to enhance the original vision. Then we take about 30 pictures, decide on which is the best, plug it into our storyboard and take the scene down. 

So what is it like? It's disorder turning into order, a bit like our own Christian journey. 
The best part of the series is that the whole family can learn and grow in faith together from reading the books. I've learned new things from reading it to my kids!
"I want families to know that this isn't just for their children, but rather for the entire family," she explained. "We've really created a fun Bible study for the entire family to participate in and a way to teach the beauty of our faith in a very approachable way without dumbing anything down. This is for everyone."