With representatives from all areas of the Regnum Christi movement, this group brings a unique blend of backgrounds to a united mission.
Since 2019, the Regnum Christi Music Collective has been recording Catholic music with an ear for evangelization. Their members are all sourced from the greater Regnum Christi Movement and include priests, consecrated women, and young people who rally around a vocation in uplifting music that aims to facilitate prayer and a deeper relationship with Christ and his Church. 
Their latest release, a music video for their new song "Heaven on Earth," features the group singing the tune before the Blessed Sacrament. This intimate glimpse of their young members practicing their faith in a beautiful little chapel presents a faithful example of the peace that can be found in worship.
The song, which was written before the National Eucharistic Revival was announced, has become all the more relevant as US Catholics reaffirm the True Presence of Christ in the Eucharist over the next several years.
To get to know the Regnum Christi Music Collective better, Aleteia sat down with Father Jaime Lorenzo, one of the founding members of the RCMC.
Regnum Christi Music Collective | Provided
In your own words, how would you describe the mission of the Regnum Christi Music Collective?
The mission of Regnum Christi Music Collective is twofold: the first is to create music that is both meant for prayer and for devotion. It leans towards praise and worship, but also could be used in a liturgical setting. We're open to it, whichever helps people pray. Music for a mission [means] things that you'd sing at youth conferences, you know, like what would pump up the youth crowd at the March for Life. Good Catholic content. 
Then the second, which is a little more long term, is the formation of musical apostles. We make it our focus to give young adults the tools to evangelize through music. 
How does the RCMC interact with the greater Regnum Christi Movement? 
The collective itself is composed of different vocations that are associated with the Regnum Christi Movement. We have young adults, we have consecrated women, and we have priests, who are Legionaries of Christ. Each branch of the movement is represented and anyone who feels the call to create music with us from within the movement is welcome in our recording sessions, songwriting, or music retreats that we put on.
On your website you explained that the Regnum Christi Music Collective originated in 2019 with just you, Father Klein, and Emily Roman, a consecrated woman. How would you say the music has developed in the years since you've added new members?
I think the depth of the message of the songs has improved in a way that really one single songwriter cannot do. We've learned how to co-write and we've learned how to do what we call musical surgery. It's when a lot of us will work on a song together and just hash out ideas and we're praying with it. And usually the content within the songs, every word and phrase is something that's prayed about before it's finalized. 
Another area we have improved is in the production itself, like the multiple harmonies and voices – the overall choral feel of just the community singing together has been wonderful. We have also become very close to the Vigil Project. I live in Louisiana and I'm about five minutes away from Greg Boudreaux, who's kind of the head [of that project]. 
When we started this project, I happened to be his neighbor, and one of Father John's good friends from college was Sean Williams, who's the violinist and producer of the Vigil Project. Now he's with our product too and he's been a huge help giving the sound depth.
Regnum Christi Music Collective | Provided
The music video for your new song, "Heaven on Earth," was filmed during Eucharistic Adoration in a small church. Was this song written with the ongoing national Eucharistic Revival in mind?
Actually, no. We would have loved to have that in mind, but I think the Holy Spirit works in a special way. Two things happened when we came together for our songwriting week, in February of 2022. Every year we have a songwriting week, and one of the big themes that we wanted to write about was the Eucharist. 
Like, what would one's experience of the Eucharist be and how can we put that into song? We have some songs out there that other groups have done, but we wanted to write something that's really moving and simple and singable and repeatable in a Catholic way.
We did that and a few months later we got a call from this guy named Ryan Foley, who runs the virtual Eucharistic Congress. He asked if we had a song that we know of about the Eucharist. We were like, "Hey, we just recorded one!" 
"Heaven on Earth" came out around the same time and we were like, "Oh my gosh, the Holy Spirit is working." 
What does music bring to the explanation of the Real Presence of Christ in the Eucharist?
I think one thing that we talk about when writing music, especially from the perspective of priests – Father Klein and I are best friends and we've learned from doing this for a while – is that music touches the heart. It's an expression of beauty that reaches the emotions. A talk or an article cannot do this in that way. The heart moves people to do things and it affects people in different ways.
The good part of being affected in your heart is that it moves you to do good and to love. To desire something beyond yourself. When music is done in the right way, that's what's lifting and inspiring, especially toward the Eucharist. The whole goal or the fruit that we expect is that it helps people fall in love with the Eucharist in that experience.
It seems like everybody in the RCMC can sing. So how do you decide who takes the lead on each song?
We write thinking, "Whose voice would be best for it?" and we actually discuss after the song is written who would lead the song. Depending on the feel, depending on the need of what we just discussed. We have to agree about it a lot and believe it's true.
Something we've been trying to put a lot more emphasis on is, as I said earlier, the choral feel of the songs. So we try to incorporate tons of harmonies. It's the community, it's the church that's singing and it's not just us, and, you know, we're not meant to be rock stars.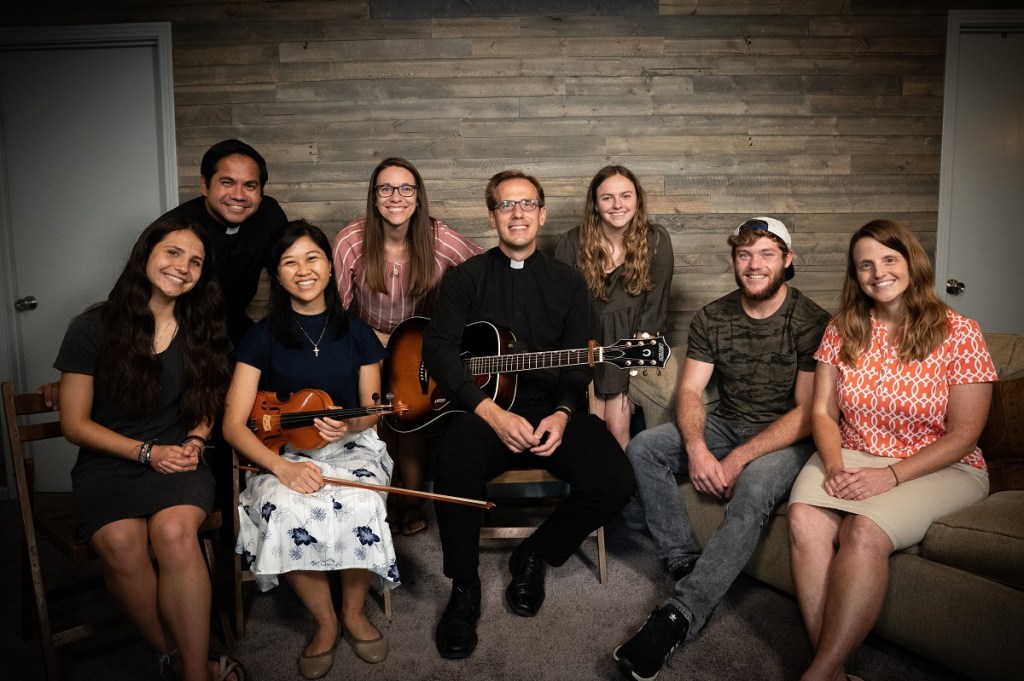 Regnum Christi Music Collective | Provided
Everybody in Regnum Christi Music Collective, in all of the media, recordings, and pictures, seems like they're having a ball. What's it like to work with such a joyful and energetic group of young Catholic musicians?
No pun intended, it's Heaven on Earth.
It's actually very helpful. You sense and feel the spirit of the Catholic family through this project. It's a lot of work when we get together. There are moments of tension, but at the end of the day we share the same spirit.
By this, I mean, we're all part of the same movement of Regnum Christi and we all share the same mission in different ways. We're not all from the same city. It's really when we come together, everyone just loves what we do.
I wanna add that too, that everyone loves their faith and loves the Church and Jesus so much. A neat thing we do every time we're together, whether for songwriting or producing, we always start with Mass and in the afternoon to visit a church, to have adoration, to close with a rosary or something like that.
What would you say is the most challenging aspect of writing music for a liturgical setting or music that seeks to evangelize?
First is being simple about it. Something that we noticed in the Catholic faith is that we have a lot of things to say. We want to be complete and all encompassing. There are thousands of things to say about subjects like Mary and the Eucharist. And one of the challenges was to create a single message.
The second regards sound and style. How can we produce music that is not worldly or hard on the ears? We make an effort to make music that is moving and uplifting, especially when it comes to music for mission and evangelization. 
It's easy to just write songs for jumping up and down, or the superficial. So we really try to be very animated with a kind of epic, moving and joyful music. It's tricky. We spend a whole year drafting each song before we record them.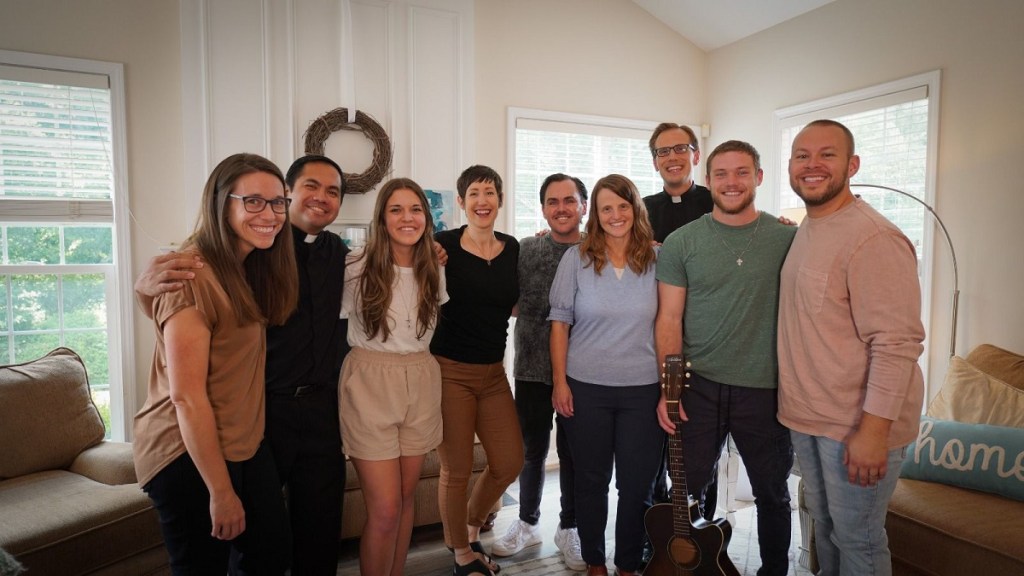 Regnum Christi Music Collective | Provided
Has the RCMC ever considered releasing piano charts for your songs to be used in local parishes? 
Yes. I compose liturgical scores – that's my background – although I didn't study it. That's kind of our next step, creating piano charts, and "Heaven on Earth" was the first one we did. Someone from a parish reached out and asked for sheet music to use on a retreat.
We're like, "Oh shoot. Get it done!" Our hope is to, when time permits, produce versions of our songs that are less "produced," just guitar or just a piano and people singing. Most of what we have released until now are very much studio albums.
Learn more about the Regnum Christi Music Collective at their official website. Be sure to follow them on YouTube, Spotify, Apple Music, or your favorite streaming service.