Participants at March for Life 2023 in Washington, DC, told Aleteia what was different about this year's event.
Need an idea for Lenten almsgiving?
Help us spread faith on the internet. Would you consider donating just $10, so we can continue creating free, uplifting content?
Make a Lenten donation here
The first March for Life was held on January 22, 1974, on the West Steps of the Capitol building in Washington, DC. Intended to be a one-time event one year after Roe v Wade was decided, the march became one of the largest annual gatherings in the nation's capitol, with tens of thousands making the trek from across the country in bitterly cold temperatures to witness to life every January.
Jeffrey Bruno / Jeffrey Bruno
At this past weekend's march, however, there were some blue skies and warmer temps and that seemed appropriate as the event had an entirely new quality to it this year: It was the first march since the Supreme Court overturned Roe v. Wade on June 24, 2022.
After nearly 50 years of marching to overturn Roe and for the right to life for the youngest among us, what was it like to walk in this year's March for Life, and what does the prolife movement need to do now? Some participants shared their thoughts with Aleteia…
Eric Johnson, who has attended the March in Washington, DC as well as in San Francisco in past years:
"I'm surprised at the numbers that are here, and honestly [I'm here] to thank the Supreme Court. We still have a lot of members in government that still think federal mandates matter and the nice thing about the Roe decision is it repeals it back to the local level where we have more say."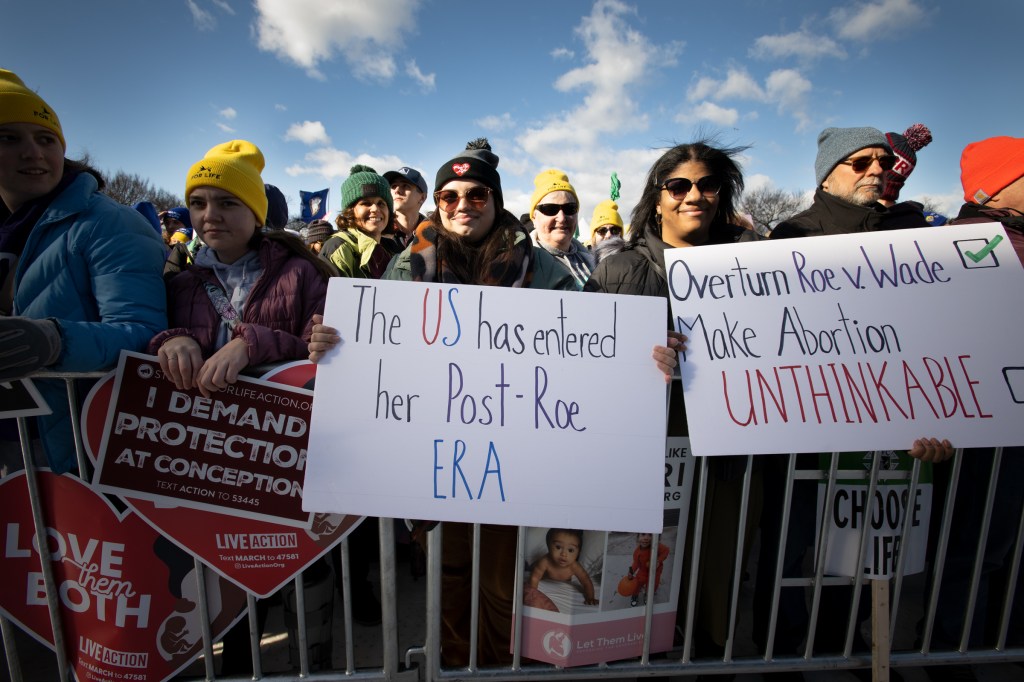 Jeffrey Bruno / Jeffrey Bruno
Jenna Romanchuk, a mother marching with her baby:
"I've been here a few years, though not recent years, and they were huge. With Roe overturned I wasn't sure a lot of people would turn up. I think a lot of people might be confused and think abortion is now illegal, which is not true, so I'm happy wit the turn out."

Photo courtesy of Jeffrey Bruno
Fr. Dave Pivonka, TOR, president of Franciscan University of Steubenville:
"Two things [strike me]…. There is a sense of celebration, a sense that something is different in Roe v,  Wade being overturned. But one of the things I think is important is this was never just about Roe. The goal is is the end of abortion. So, yes, there is a kind of a celebration, a lighter spirit, but there's a lot of work to be done and I think people are aware of that. It's almost like everyone's taking a deep breath and now we have to get back to work. It's great that we're here in Washington but we need to look at local legislators, governors, city councils — it has to go back to the local…help the moms, the families, and do things to support to pro-life movement."
Mark DeYoung, a VA participant who has been to 12 marches:
"There is certainly a sense of hope now among the people who are in this new era, but for those who are paying attention and are realistic, there is a sense there is a lot more work to be done. In some states, things will be worse in terms of local laws and so we have to keep doing what we're doing and working with people at different levels, keep praying in front of the clinics, working at colleges, speaking publicly, and defending the cause. It's still important to come to Washington…it's still importune that our congressman and senators see us here. And also for Americans generally to see we are not going any where."