After the monumental success of the Bible in a Year podcast, Fr. Schmitz will begin the Catechism in a Year on January 1, 2023.
The makers of the most popular Catholic podcast of all time are seeking to do it again in 2023. Next year, Fr. Mike Schmitz will begin hosting a new podcast, The Catechism in a Year. The program will offer 365 episodes, released daily, that will instruct listeners on the Catechism of the Catholic Church (CCC). 
It's hard to overstate how successful the Bible in a Year became in 2021. With an estimated 3 million downloads and a staggering 6.8 billion total listening minutes, it could be years before any Catholic podcast comes close to ousting it from the #1 all-time slot. Last year, the show spent the better part of a month atop the Apple podcast chart for all categories, and it still remains #1 on their Religion and Spirituality section. 
The success of the podcast is due in no small part due to its superb host, Father Mike Schmitz. With an enthusiastic and emotive voice, Father Schmitz connects with audiences while simplifying abstract concepts to make them easy and fun to learn about. Now Fr. Schmitz is bringing his exuberance to the Catechism in a Year.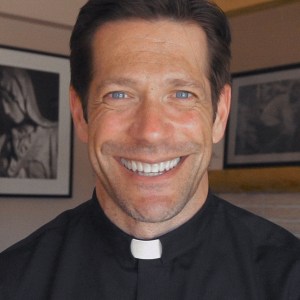 Ascension Press – Provided
Catechism in a Year
Beginning on January 1, 2023, Fr. Schmitz will read through the Catholic Catechism, providing insight, explanation, and encouragement in the process. In his announcement video, featured above, Fr. Schmitz spoke passionately about the new project. He said: 
"The Catechism is this incredible gift of a Church that has been given God's word, has been shaped by God's word, has been called higher by God's word, has been converted and convicted by God's word. The Catechism is a reflection on all of Divine Revelation, and a distillation and a compilation, a summary of what we believe. Beginning on January 1, what we did with the Bible, we're going to do with the Catechism." 
New print edition
In support of the new podcast, Ascension Press will publish a new print edition of the CCC. Along with the full text of the Catechism, this edition will include an original guide with the express purpose of helping to "make the Catechism easy to learn and a joy to remember."
Father Mike explained: 
"For 365 days we are going to take a little section of the Catechism every single day. We're going to read it, explain it, and expand upon it so that by the end of this year we'll be able to say, 'I know what the Church believes, I know what God's plan is for my life, I know how to talk to God, I know how to listen to His voice, and I know how to worship Him.' It's going to be incredible."
In a press release, Ascension President and CEO Jonathan Strate noted that they have received many requests for an in-depth dive into the Catechism even before the Bible in a Year podcast was completed. Strate said: 
"We are excited for Fr. Mike Schmitz to present this offering to our audience, especially as the Catechism of the Catholic Church marks the 30th anniversary of its publication this October."
The Catechism in a Year podcast will be available for free on all major podcast platforms as well as the Hallow app, making it a powerful catechetical tool for Catholic schools, parishes, and universities, including those with limited budgets.