Francesca Pellegrino is removing a major barrier to Catholic education.
Catholic schools are famous for offering a great education, but often they aren't able to include children with disabilities. 
A lack of resources means that many Catholic schools struggle to accommodate all children:
"Because disability practices aren't uniform across Catholic schools, families wanting a Catholic education for their disabled children often encounter tough choices … One of the biggest problems with serving students with disabilities in Catholic school is the lack of resources."
The lack of accommodation forces many families not to send their children to Catholic schools, even if they desire a Catholic education for them.
So it's exciting and encouraging to hear about work being done to find a place for children with developmental and/or intellectual disabilities in Catholic education.
Francesca Pellegrino is the President and Founder of the Catholic Coalition for Special Education, Inc. (CCSE). She spearheads this important work — and the mission is a deeply personal one. 
Photo Courtesy of Francesca Pellegrino
Aleteia had the chance to sit down with her for a conversation, and she explained why she's so passionate about inclusive education in Catholic schools.
"When my son was born 30 years ago, my life was really turned upside down and inside out. His early years were fraught with medical issues with him in and out of medical care. I became angry and dejected and suffered a crisis of faith. Thanks to the support of my husband and his unwavering faith, a transformation took place in me and I realized I couldn't stay in that angry, unhealthy place. That's how my journey began, from hopelessness to action. I saw a need and saw that something had to be done to fill that need."
Francesca began talking to parents, clergy, and teachers. She saw that many other families with children with disabilities wanted to send their children to Catholic schools. 
Many were deeply frustrated that they had to send their child with disabilities to a different school alone while all the other siblings went to Catholic school together. 
Her son never did attend Catholic school, but Francesca is determined to make it possible for other children with disabilities to find a supportive and welcoming place at Catholic schools. 
CCSE supports the creation and expansion of special education instruction and programs in Catholic schools in Washington, D.C., and Maryland. It also gives support to parents on the journey of raising a child with a disability. These services are offered free-of-charge to schools and families of children with disabilities. 
"We build the capacity of Catholic schools to enroll students with disabilities by providing seed funding to initiate or expand inclusive programming, as well as pro bono technical assistance in the form of coaching, workshops, and other resources to help a school be the best it can be at supporting students with disabilities," Francesca said. 
Photo Courtesy of Francesca Pellegrino
CCSE also has a partnership with The Academy of Catholic Educators. As part of CCSE's programming, it hires faculty from the university to visit selected schools regularly to help troubleshoot and consult on issues teachers and children may have.
After years of increasing success at the elementary and middle school level, CCSE is actively seeking Catholic high schools to open their doors to students with disabilities. So far there's been a shortage of Catholic high schools stepping up to the plate
CCSE is present in two dioceses: Washington, D.C. and Baltimore, Maryland. But their work is gaining national attention.
The U.S. Conference of Catholic Bishops (USCCB) has invited CCSE to participate in the synod consultations on the national level about special education inclusion in Catholic schools.
"There is a lot of demand for these programs around the country," Francesca said. "It's a very hopeful sign that things are opening up and moving in the right direction."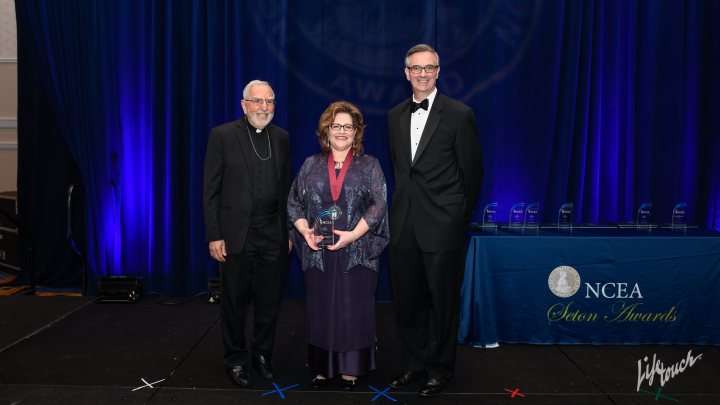 Lifetouch Photography | Photo Courtesy of Francesca Pellegrino
These consultations are open for anyone, anywhere in the world, to attend, thanks to an online option. The next one will take place Thursday, June 16 at 7:00 p.m. at the Catholic University of America, and you can find more information and register here. 
"The synod is calling for a journeying together," Francesca said, "But in families with kids with disabilities, there's still a sense of isolation that they're in it alone and they don't have the kind of support that they might need from their parish community."
CCSE is a critical missing piece to make Catholic education accessible for all children. We certainly hope to see its efforts spread and be replicated all over the world.
Ultimately, this inclusivity is a profound expression of our Catholic faith. It's beneficial not only to children with disabilities but to all the children of the school. Francesca said, 
"As Catholics we believe we are one body in Christ, and that body is only complete when all members are present, so this is really a fulfillment of the purpose of Catholic schools. Inclusion of students with disabilities doesn't just impact them, but it shapes the entire student body. When kids with and without disabilities learn alongside each other, kids without disabilities learn important life lessons, become better equipped to care for their own kids with disabilities or aging relatives with disabilities, and are better prepared as adults to serve people with disabilities in a professional capacity."