The must-see faith film of the year will spur a Eucharistic revival in one-day theatrical release.
A new documentary is headed towards select theaters for a much anticipated one-day release. Titled Alive: Who Is There?, the film explores the true stories of people whose lives became transformed by the Real Presence of Jesus Christ in the Eucharist. This must-see faith film will hit U.S. theaters on Monday, April 25, following Divine Mercy Sunday. 
Alive is a Spanish-produced documentary brought to us by the new Bosco Films and Hakuna Films. These faithful filmmakers present the stories of five men and women who recall, in their own words, the moment they recognized the Real Presence of Jesus in the Eucharist. The inspiring faith and genuine awe that these individuals express make Alive not just a movie, but an opportunity to develop a greater devotion to the Eucharist.
Bonus footage
For the U.S. release of Alive, the filmmakers have added some bonus footage to the 90-minute film. After the credits roll, audiences will be invited to dive deeper, in a section called "A Conversation About the Power of the Eucharist." Here, viewers will be treated to a look at the transforming power of God made present in the Eucharist at Catholic Masses and on altars around the world. The bonus material comes with exclusive commentary from Bishop Andrew Cozzens of the Diocese of Crookston.
Successful release
The film was initially released on April 9 in Spain, and it has been shown in 14 other countries in Latin America. CNA reports that Alive has already attained a position on the top 10 list for Spanish and Mexican box offices. In Colombia alone, there have been 100,000 tickets sold for the limited release. 
Founder of Bosco Films Lucía González-Barandiarán said of their success in a press release: 
"ALIVE has been and continues to be a complete surprise, a simple documentary without pretense that reached the top 10 box office in Spain and Mexico. We truly believe that the world is in need of hope and that's what this movie brings. It has already transformed many by its simplicity and has created a revolution."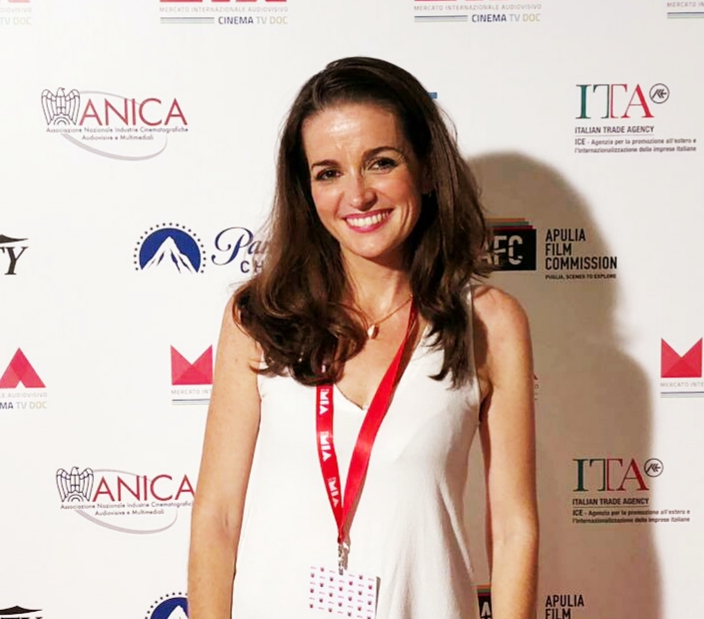 Lucía was kind enough to sit down with Aleteia to talk about Alive:Who Is There?: 
Aleteia: How did Alive come to be? 
Lucía: The idea came from Fr. José Pedro Manglano, who leads hundreds of young people in Spain in a movement called Hakuna, which was born from Holy Hours. This group of young people used to meet for Eucharistic adoration and started to compose their own Catholic music for the Holy Hours. The group suddenly started growing and they became a big movement with the approval from the Catholic Church in Spain. 
Fr. José Pedro, or Josepe, as we used to call him, wanted to share what is happening with that piece of bread that hides such a deep mystery and contains so much power, and the idea of the movie started to be filmed, with testimonies from real people. This is nonfiction. It is real and the subjects were nonbelievers who experienced what we Christians believe: that there is a Living Christ.
Alive has reached the top 10 in Spanish and Mexican box offices. What is it about this documentary that resonates with audiences? 
This is a simple documentary with real testimony from real people who didn't know about Jesus truly present in the Eucharist. There are no stars, no celebrities. The main celebrity, the main character, is Jesus Christ. Regular men and women are speaking to regular men and women in the audience about how their lives became transformed and how they personally came alive because Jesus is alive! 
The subjects in the documentary give testimony and there is power in testimony, because it creates a fire that is contagious. Many people can use this film. Bring a loved one, friend, and those who are far off and need the hope and truth of Jesus Christ alive in the Blessed Sacrament. 
Why do you think this documentary is so relevant in 2022? 
Many Catholics forget or simply do not know that Jesus is truly present in the Eucharist. There was a Pew study that was conducted around 2019 that revealed that 7 out of 10 Catholics in the United States believe that the Body and Blood are merely symbols. Unfortunately, we have done a poor job catechizing in religious education, in the Church and at home, so it is urgent for Catholics to reclaim the baptized and help them know that the life, power, and love they seek is truly present Body, Blood, Soul, and Divinity in the Blessed Sacrament. 
In America, Europe and many parts of the world, Christianity is becoming a dim light. In order for us to restore our Church, our families and the world in which we live, the proper order is to know Him, love Him and serve Him. We cannot love or serve God unless we know Him. Knowing Him is to be in His presence and to be transformed by God. 
We have also come through a devastating pandemic and are in the midst of other atrocities happening in the world. Who can help us? Who can empower us amid these challenges? Only Jesus. We draw our life and strength from Him. A little-known fact about our production company — we are consecrated to Our Lady of Guadalupe in Mexico. Our Lady under this title is so important because through her, God left an imprint of the Divine — a lasting impression for all humanity to see. 
Via our film ALIVE, we want to leave a lasting imprint in minds and on hearts to lead souls to a deep relationship with Jesus Christ. 
What does a Eucharistic Revival look like to you and how can it reshape the world? 
For me, the Eucharist Revival is to return to true Love, which we have often abandoned in our day-to-day concerns. When we love, we want to be close to the beloved, to share with the person we love, to talk with that person, to listen to that person, to feel loved too, and when we are in front of Jesus in the Eucharist, we live all that. Eucharistic Revival is to live day-by-day in love, with the Master of Love.
What advice would you give to someone who is open to the faith, but has not yet recognized the Real Presence of Jesus Christ in the Eucharist?
I would invite that person to sit in the presence of Jesus Christ in the Blessed Sacrament. Make a holy hour. Ask God if He is real. Ask God why He comes to us so hidden and small. Ask Him to reveal Himself to you personally and invite Him to speak to you and to do for you what only He can do in that moment of face-to-face encounter. It is in that mystery and in that moment that God will reveal that he is alive. What do you have to lose? And of course, go see our simple and beautiful movie ALIVE when it comes to theaters on Monday, April 25th!
If you struggle to enter a church, come to the movies and begin to ask the questions and to hear from others who have let themselves be led by the One who calls each and every one of us to His Eucharistic heart. 
Tickets for ALIVE can be purchased at Fathom Events or participating theater box offices. For a complete list of theater locations visit the Fathom Events website.