"We would never have had the courage to believe in him, had we not known Jesus."
On Valentine's Day, as Pope Francis reflected on Jesus' interaction with a leper, he said that God's style is characterized by three words: "The Gospel says that Jesus, seeing the leper, was moved with compassion, tenderness. Three words that indicate God's style: closeness, compassion, tenderness."
As he continued his catechesis series on prayer on March 3, the pope reiterated that this triad describes "God's style," a style that we couldn't possibly know if it weren't for the revelation of Jesus.
It is Jesus who reveals God's heart. Thus Jesus tells us through his life the extent to which God is a Father. Tam Pater nemo: No one is Father like he is. The paternity that is closeness, compassion, and tenderness. Do not forget these three words, that are God's style: closeness, compassion and tenderness. It is his way of expressing his paternity towards us.
The scandal of love
The Holy Father said that only because of Jesus can we imagine a God who loves us like this.
Why should humanity be loved by God? There are no obvious reasons, there is no proportion… So much so that most mythologies do not contemplate the possibility of a god who cares about human affairs; on the contrary, they are considered bothersome and boring, entirely negligible. Remember God's phrase to his people, repeated in Deuteronomy: "For what great nation is there that has a god so near to it as the Lord our God is to us?" This closeness of God is the revelation! … It was only Jesus, it was only the revelation of God to Moses before Jesus, when God presented himself; it was only the Bible that opened us up to dialogue with God. Remember: "What great nation is there that has a god so near to it as ours?" This is God's closeness, that opens us up to dialogue with him. A God who loves humanity: We would never have had the courage to believe in him, had we not known Jesus. […] It is the scandal – it is a scandal! – that we find inscribed in the parable of the merciful father, or in that of the shepherd who goes in search of the lost sheep (cf. Lk 15). We would not have been able to conceive or even comprehend such stories if we had not met Jesus. What kind of God is prepared to die for people? Which one? […]
Praying to Love
Pope Francis explained that Jesus' revelation opens us to prayer with the Trinity, "to the immense sea of God who is Love."
Without him, he said, we "really did not know how to pray: what words, what feelings and what language were appropriate for God."
And we pray in our unworthiness: "Saint Francis prayed: 'Nullu homo ène dignu te mentovare,' that is, 'no man is worthy of naming you' (Canticle of the Sun)."
Francis also cited the "moving acknowledgment of the poverty of our prayer" from the Roman centurion, which we repeat at every Mass: "Lord, I am not worthy that you should come under my roof; but only say the word, and my servant will be healed" (Mt 8:8).
To dialogue with God is a grace: We are not worthy of it, we have no rights to claim, we "limp" with every word and every thought… But Jesus is the door that opens us to this dialogue with God.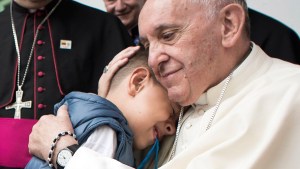 Read more:
The word Abba is like a recording of Jesus' voice, says pope