The sophomore record experiments with pop tones, still driven by ripping guitar solos.
The sensational mother and son led band DUPREE is back with its second featured album. Lauren and Dylan Dupree did a great job writing memorable tunes that are genuinely fun to listen to. Titled Never Forget, the 11-track record is jam-packed with fantastic faith-based songs that are bound to be a crossover success.
DUPREE's sophomore album marks a departure from the "classic rock" feel of their 2019 release, Everlasting Love. Never Forget experiments with more electric effects and vocal layering than its predecessor. The work still prominently features Dylan Dupree's phenomenal guitar solos, making even their more pop-centered songs rock out.
The title track, "Never Forget," is an upbeat Christian anthem about keeping true to one's self and faith. We were taken back by the tight harmonies in the chorus, but the guitar solo is where it really shines. Dylan Dupree, at age 21, plays with the confidence and prowess of a man twice his age. His skill as a guitarist is truly remarkable, allowing him to charge through cleverly crafted licks with ease.
Churchyard blues
One of our favorite tracks on the new album is "Chapel Song," a bluesy country song. The chorus is laid back and catchy, nearly begging for a gospel choir. The solo in this one was not as unbridled as Dylan's talent allows, but it was perfectly suited to the song. The repeating chorus in the end is easy to sing along with and will live on in your head all day.
In a press release, DUPREE said of the new album:
"We are excited that our music is resonating across genres, reaching believers and non-believers with a message of belonging and anti-bullying. Our own experiences are present in our writing, and our wide range of fans appreciate our honesty and realism as we bring back electric guitar, highlighted in each song, with an organic vibe people are falling in love with. Our songs are relatable, which adds value to our fans and our message."
The 11 tracks of Never Forget only last about half an hour, but DUPREE fits in a lot of music. With their Christian faith deeply embedded in their lyrics, a smooth pop feel, and an epic soloist, the work is bound to become a staple of Christian crossover music. It will take us months to properly analyze all of Dylan's solos, but already we can't wait for more.
Learn more about DUPREE on their website and hear the full album on Spotify.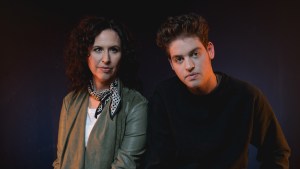 Read more:
Mother-and-son Christian band DUPREE features jaw-dropping guitar solos