Inspirational Ashley McKendrick has a desire to help those in need.
At the age of three, Ashley, a little girl from Taiwan, was adopted by the McKendricks from Gilbert, Arizona. Ashley was born premature with Goldenhar syndrome, leaving her with developmental and intellectual disabilities as well as craniofacial anomalies. At a young age, she underwent multiple operations, including one that constructed an ear so she'd be able to wear her glasses.
Despite all her medical issues, Ashley was a happy, busy bee, helping out around the house as much as she could. Being one of 24 siblings — 17 adopted and 15 still at home — who were all expected to help around the house, Ashley always joined in without any fuss.
"Because people need help." – Ashley McKendrick https://t.co/h7kmtFi58vpic.twitter.com/sUukiNdy67

— Advanced Driving (@ADSTallahassee) December 18, 2020
The now-23-year-old works six days a week volunteering at three food banks. Yet when a co-worker tested positive with COVID back in May, Ashley was furloughed for a fortnight. After a few days, she got bored and started making baby hats.
After Ashley completed 20 hats, her father, Chris, donated them to Banner Children's at Desert Medical Center in Mesa for premature babies. Describing his daughter as a helper, he shared with AZ Central: "I wish I could take credit; she came that way."
Feeling compelled to do her bit, especially after her own medical issues, Ashley has now made over 100 hats for preemies. While her mom, Kelly, picks up yarn on sale, Ashley is going to continue making hats, as she explains that "people need help!"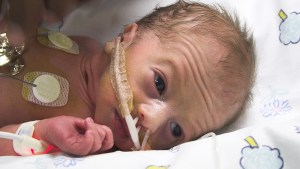 Read more:
This one specific type of music can help build the brain of premature babies