Tuck these gems in their stockings or under the tree!
Christmas is around the corner, and many families like to give their kids beautiful, meaningful books under the tree. Some parents follow the adage to give "Something you want, something you need, something to wear, and something to read." Others simply appreciate a reason to add to their home library with the kinds of books that teach virtue and that kids will want to re-read again and again. Whatever the reason, you'll want to add some of these treasures to your child's Christmas list!
Picture Books
Show kids how they can be saints with the delightful new picture book I'm a Saint in the Making, that helps kids know and understand their "special mission" from God to practice prayer, kindness, and acts of charity.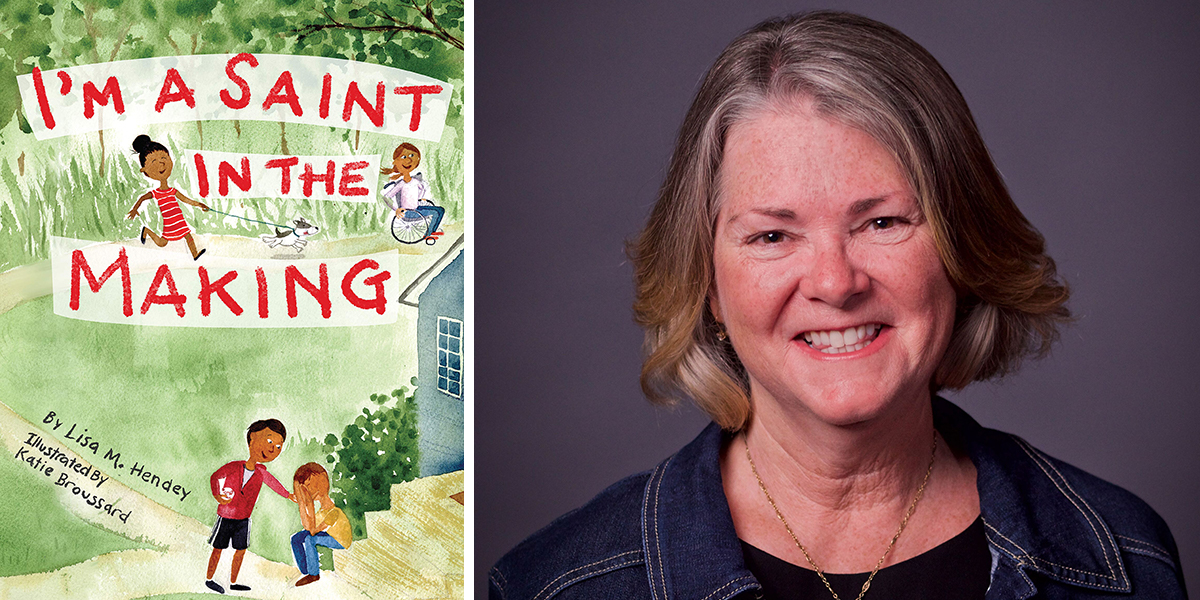 Saintly Rhymes for Modern Times shows the beauty of Christian holiness in memorable and kid-friendly rhymes.
Glory Be Saints A to Z teaches kids their letters and about the saints at the same time. From Augustine to Zélie, each saint is a heavenly friend for your little one!
It's not every day you find a spiritual work for children that is both visually stunning and truly profound, but The Interior Castle: A Boy's Journey into the Riches of Prayer achieves this, gently introducing children to the joys of contemplation and the interior life in an engaging way. Every Catholic family should own a copy. (If you need another endorsement, my 6-year-old son says it's his favorite book!)
Tomie DePaola is a beloved author in countless Catholic homes, and for good reason. His many works about Christ, the Bible, and the saints are a perfect way to introduce children to the treasures of the faith. His book about Mary, the Mother of Jesus is very fitting for Christmas, as is The Night of Las Posadas.
Share the stories of holy Black men and women with Great Black Catholics: Saints Like Me, a new board book that celebrates the universal call to holiness.
Revel in the joy of the Christmas season with this elegant new work, A Child's Christmas ABC Book: Angels in the Air Arrayed, and these beloved Christmas classic picture books.
Wiggly little ones can understand the Mass better through the story of Sam the Guardian Angel, or through Katie Warner's picture books that beautifully illuminate different aspects of the faith. Father Ben Gets Ready for Mass andI went to Mass: What did I see? are especially sweet and creative reads!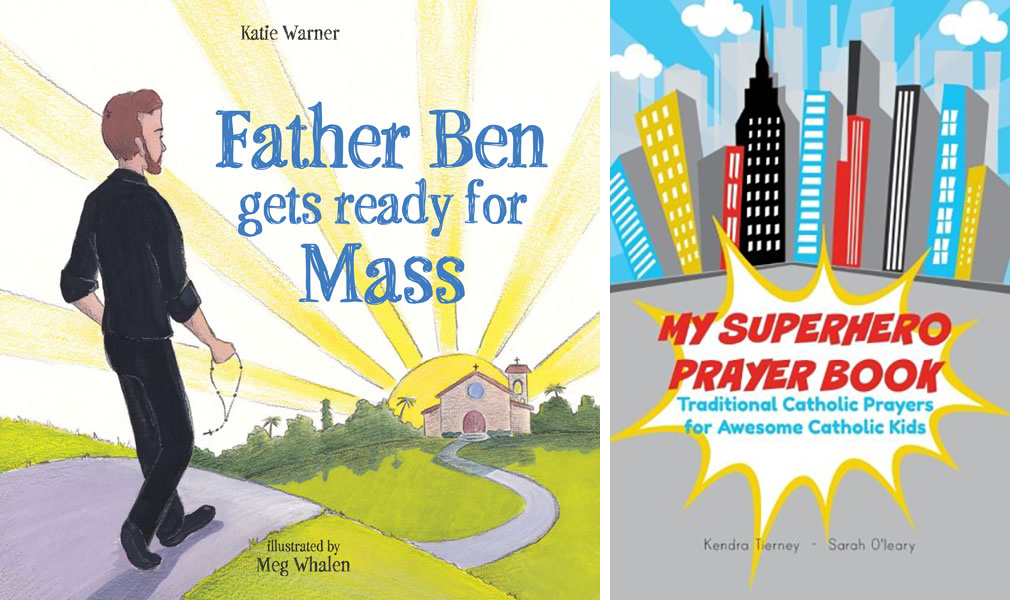 Kids will appreciate having their own prayer books, especially these fun superhero, fairy tale, and forest themed ones, with traditional Catholic prayers.
Featuring a traditional 33-day preparation for consecration, Marian Consecration for Children is written to help children ages 3-7 understand their faith and learn about Marian devotion. The gorgeous illustrations draw kids into daily prayer and reflection, so the whole family can grow in faith together.
Grandma Taught Me to Love Mary (Mi Abuela Me Enseño a Amar a la Virgen Maria) shows how a grandmother's love helped her grandchildren to know, honor, and love Our Lady. This is an especially perfect gift if you have a grandchild on your Christmas list!
Introduce the concept of saintly intercession with My Little Book of Patrons.
Children can witness the story of Christ's life alongside a shepherd boy as he meets the infant Jesus and then is present at His Passion, Death, and Resurrection decades later with Nissim: The Shepherd of Bethlehem. 
Read more:
These graphic novels help kids get to know holy men and women
Novels
Good books help form a person's character, and a novel about a Catholic family is a gift to last a lifetime. You can find lots of excellent suggestions over at Good Books for Catholic Kids and Bethlehem Books.
One of the best series for Catholic kids is Hilda Van Stockum's wonderful Mitchells series, consisting of three books: The Mitchells: Five for Victory, Canadian Summer, and Friendly Gables. Van Stockum was a Catholic wife and mother of six whose writing captures the joys and challenges of family life perfectly, with plenty of fun along the way!
Every Catholic kid should read the thrilling classic Outlaws of Ravenhurst, written by a religious sister and Catholic schoolteacher who understood the power of a great story in winning hearts for Christ.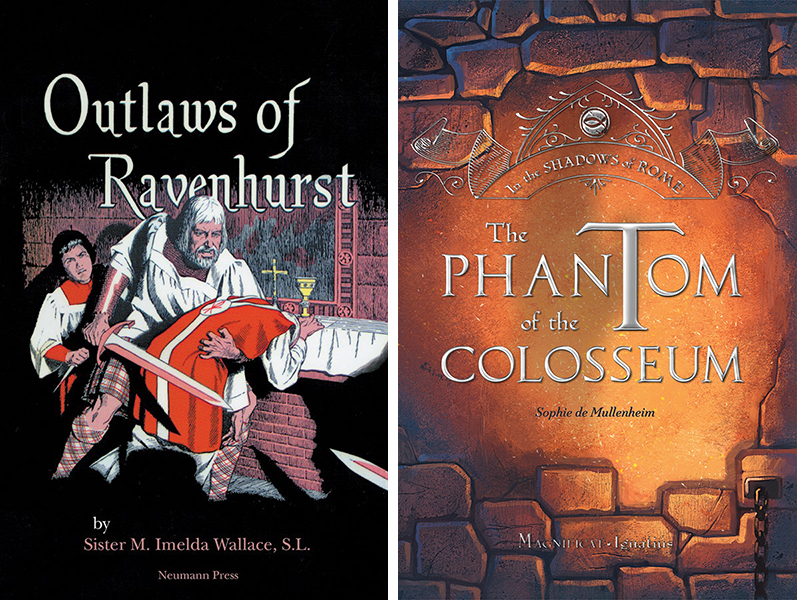 The Chime Travelers series features twins who travel through time to meet different saints. These books are so much fun for young readers and teach valuable lessons about history, family, faith, and who the saints really were.
The Phantom of the Colosseum is the first volume of five in the gripping new series "In the Shadows of Rome" (for age 10 and up). The book follows the lives of young Christians in ancient Rome, following a new faith in a world that was deeply hostile to it. These books give insight into important history, show the value of friendship, and, most of all, give witness to the courage of the early Christians, helping children today to know and appreciate the gift of their faith.
The Adventures of Loupio comic book series tell the story of a young troubadour who travels with St. Francis of Assisi. Loupio grows in faith, hope, and charity while learning important lessons about mercy and God's love, all presented in a highly readable way. Kids who already enjoy reading about Loupio will be delighted to receive Volume 5: The Cave, the newest installment in the engaging series. (Find more great Catholic comic books here!)
Spiritual Reading
You can't go wrong with an engaging biography of a saint, a wonderful way to help a child get to know a new heavenly friend or learn more about a beloved patron.
Encourage a child's growing prayer life with the Holy Heroes spiritual journal or a Mass journal designed to help kids engage with Scripture and spend time in prayer.
The Be Yourself! journals (one for girls and one for boys) help children understand their identity and purpose as children of God.
This Catholic growth mindset journal helps kids face life head-on and confront challenges with courage and prayer.
Made especially for children ages 8-12, the Rise Up devotional is "designed to plant the seeds of a prayer life and guide it to blossom."
Read more:
The 2020 Catholic Christmas Gift Guide for Kids