The 15-year-old singer/songwriter extols the benefits of uplifting music and positive online content.
After several successful singles, 15-year-old singer/songwriter Estella Kirk has released her first EP (extended play), alongside a touching new music video for her single, "Pretty Lies." The five-song collection, titled Bright Side after one of the songs, only runs about 15 minutes, but it shows off surprising depth for a musician so young.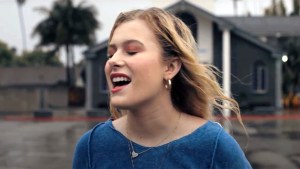 Read more:
COVID-19 inspires 14-year-old's song of hope
According to an accompanying press release, Kirk's goal is to create music that positively impacts her peers and provides more positivity to her generation. The new EP brings with it a message to "Choose Wisely," a topic Kirk has spoken about at length to Christian youth groups in a program of her own design. She explained in the press release:
"On average, a teen spends over 7 hours a day on their phone and many studies have found a strong link between heavy social media and an increased risk in depression, anxiety, loneliness, self-harm and even suicidal thoughts," says Estella Kirk. "If we are consuming over 7 hours of something, we have to choose wisely to make sure we are surrounding ourselves with positive messaging and images."
Kirk tackled these modern social dangers in her most recent single, and the subject of her new music video, "Pretty Lies." The artist explained she wrote the song after a friend called Estella and expressed that she was considering ending her own life. In Kirk's words, "Pretty Lies" exposes "the pretty lies in our society from social media, so that we could all recognize our true value."
Kirk was assisted in writing and recording the work by Kira Fontana, a famed L.A. vocal coach who has worked with actors and contestants on Glee and The Voice, respectively. Fontana brought to the project the industry know-how to make professional level recordings, with wonderful instrumentation that stands up to the work of any of their contemporaries. The pair said they drew inspiration from Isaiah 22:22 for the work.
We have already written about Kirk's single "Shelter in the Storm," which also appears on the EP, a song inspired by the COVID-19 world pandemic. This time, however, we were most taken with "Bright Side" a fast-paced pop tune with a great energy and chorus that stays with you hours after hearing. This is the song with the clearest "pop" feel and sounds like it was inspired in part by the works of Taylor Swift. Driven by a fun guitar rhythm, Kirk affirms that she will "never, never, never" allow herself to be shaken in her faith.
"Pretty Lies," featured above, is another impressive first take from the fledgling artist. Set before droning chords, Kirk's voice sounds eerie as she doubles the melodic line with the second voice up an octave. The complex rhythmic patterns of the digital percussion bring a sense of urgency to the whole song. The music video revolves around an at-risk teen who is sent spiraling over social media interactions and finally comes to terms with the "pretty lies" thanks to a close friend (played by Estella), who brings her comfort through Bible verses.
One of our favorite parts about Estella's style is that she doesn't overwork a melody or elongate a song when there is no need. Following in the footsteps of some of the greatest early pop music acts (like The Beatles and The Monkeys), Kirk keeps her songs between two-and-a-half and three-and-a-half minutes long. This is the perfect length for a pop song: give the listener a taste of a memorable melody and let them hit the replay button.
The five songs of the EP give just a glimpse of Kirk's promising potential, whetting our musical palates for more. Check out the full work on Spotify, below.