We know that family meals make for emotionally healthier kids, but there's another important heath advantage.
For many families, gathering around a table to eat meals together has become something that only happens on special occasions and holidays like Easter and Christmas. Although many parents may not realize it, the lack of family meals has had such a profound impact on the eating habits of children and adolescents that there are already various scientific studies on the impact of this trend.
In one of the most recent studies, researchers concluded that having family meals on a regular basis is directly linked to children eating a healthier diet. The main objective of the study was to provide helpful information to public health professionals who give advice and guidance to busy parents.
An interesting aspect taken into account by the researchers during the analysis of the data was the issue of how well the families function—that is to say, how well the family members communicate, are emotionally connected, and help each other solve problems. It turned out that the dietary benefits are essentially the same, regardless of how functional the families appear to be. In short, as the study concludes:
When the goal is to improve dietary intake, participation in frequent family meals is an appropriate intervention method, even for families with lower levels of functioning.
The data for the research was a sample group of 2,728 adolescents aged 14-24 who participated in the Growing Up Today Study II (GUTS), a program carried out by clinicians and researchers at Brigham and Women's Hospital and the Harvard School of Public Health. The objective of GUTS is to analyze the "influence of diet and exercise on weight over the course of a person's life."
The participants were asked questions about how often in the past year they sat down with other family members for dinner, how many fruits and vegetables were included in their meals, how often they ate takeout or fast food, and how often they drank sugar-sweetened beverages.
The main conclusions of the researchers, according to lead author Kathryn Walton, were:
"More frequent family dinners were associated with higher-quality dietary intake regardless of level of family functioning: interactions between family functioning and family dinner frequency were not significant."
"More specifically, female and male adolescents who had more frequent family dinners consumed more fruits and vegetables, and ate less fast food and takeout food."
"Male participants, but not female participants, who had family dinners more often had a lower intake of sugar-sweetened beverages."
The researchers hope to get the word out about this study in order to motivate people to have more family dinners, as a relatively simple intervention to help children and adolescents form healthy eating habits. "Anything that can help promote healthy intake and lifestyles in that time is important. It's a big transition time," Walton says.
However, she also acknowledged that it isn't always easy for families to bring everyone together, so she suggests some strategies for making family meals a success:
"Get adolescents involved in dinner preparations: '

Many hands make light work, but it also teaches important life skills.'"

"Set reasonable goals: 'Start with one meal. You will reap the benefits. And as schedules allow, sit down together more often.'"
"Simplify family meals: 'When we think about family meals, we often think about the big, grander events, sitting down for an hour. But that's not realistic. So I think reminding ourselves, family meals don't have to be — and probably shouldn't be, for everyone's sanity — a big to-do.'"
Walton points out that preparing meals ahead of time and freezing them and using ready-to-serve fresh vegetables, such as bagged salads, can be healthy ways to keep things mealtime simple.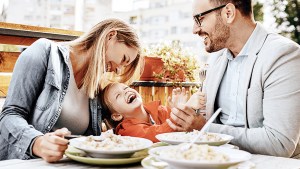 Read more:
This simple ritual will make family dinner the highlight of your day
Read more:
What To Do When Technology Is Ruining Family Dinner Time