Proper sleep hygiene is a life changer and helps us be our best selves.
What can God do in your life with one Bible verse a day?
Subscribe to Aleteia's new service and bring Scripture into your morning:
Just one verse each day.
Click to bring God's word to your inbox
Sleeping correctly is so much more than just lying on your bed, eyes closed, for approximately eight hours. There are numerous factors that can affect your sleeping, and even if you spend the right amount of hours asleep there's a good chance that you're not resting enough. Sleep hygiene can save the day — or the night for that matter — since it consists of a variety of practices and habits that result in a truly good night's sleep.
Having a good sleep is about quality, and not just quantity. According to Dr. Raman Malhotra, MD, from the American Academy of Sleep Medicine, sleep hygiene has been mentioned as far back as 1864 by the Italian neurologist Paolo Mantegazza in one of his books. It is currently defined and described in both the International Classifications of Sleep Disorders (a diagnostic manual used internationally by sleep experts) and the Diagnostic and Statistical Manual of Mental Disorders.
Practicing good sleep hygiene is beneficial for both your physical and mental health, since sleep is our source of energy and of restoration of our bodies. Having poor sleep hygiene can result in problems with feeling sleepy during the day, and being fatigued or tired. You may also have problems with insomnia, which is trouble getting to sleep or staying asleep at night. All of these issues can affect how we think and behave — for example, when we are tired we are more irritable and impatient.
Unfortunately, people in North America have increasingly poor sleep habits. In an interview for Aleteia, Dr. Raman Malhotra explains that one of the major contributing factors is the use of technology, either right before bed or after bedtime. "Many people use tablets, smartphones, computers, and other electronic devices instead of going to sleep on time to ensure seven hours of sleep. For children and teens who require even more sleep, this is a larger challenge. Furthermore, the light emitted from the devices alters our body's normal circadian rhythm, or internal clock, disrupting sleep even further for some individuals.
Other bad habits include the use of caffeine and/or alcohol in the evening or night, which can disrupt normal sleep, Malhotra said. He pointed out that poor sleep hygiene affects people of all ages and genders. However, teenagers and young adults seem to have some of the worst sleep habits because they are overscheduled with work and social activities.
The Centers for Disease Control and the American Academy of Sleep Medicine recommend adults should sleep seven or more hours per night on a regular basis to promote optimal health, and children and teenagers require more than adults. Dr. Malhotra mentions that there is some individual variation, as some adults may need slightly more or less than seven hours of sleep to function optimally and be healthy.
"It can sometimes be challenging for an individual to judge if they are getting enough sleep, as poor sleep affects your ability to self-assess, though some signs and symptoms are clear. For example, falling sleep by mistake with daily activities (work, meetings, driving) is a sure sign of excessive daytime sleepiness. Sometimes, feeling sleepy even with sedentary activities can be a sign of excessive daytime sleepiness. Yawning, losing focus, altered mood, impaired performance, increased errors, or increased accidents can also be signs of not getting enough sleep. Some have suggested one way to determine the amount of sleep you need is by keeping track of how long you sleep without an alarm clock for a week."
According to a study conducted by the National Sleep Foundation, nearly 90% of adults with excellent sleep health say they feel very effective at getting things done each day, compared to only 46% of those with poor sleep health. However, the study showed that only 10% of American adults prioritize their sleep over other aspects of daily living such as fitness, nutrition, work, social life, and hobbies or personal interests. In addition, when planning their day, 60% generally don't take into account how much sleep they'll need the night before.
Start with getting better habits
Dr. Malhotra shared some of the most important habits for good sleep hygiene:
Establish a regular routine that includes going to bed and getting up at the same time every day, even on weekends.
Go to bed when you are sleepy. If you have difficulty falling asleep or wake up shortly after going to sleep, don't just lie awake; leave the bedroom and read quietly or do some other relaxing activity.
Avoid overly bright lights and electronic devices before bedtime, as these can disrupt your sleep-wake cycle.
Develop sleep rituals before going to bed. Do the same things in the same order before going to bed to cue your body to slow down and relax.
Avoid stress and worries at bedtime. Address tomorrow's activities, concerns, or distractions earlier in the day.
Avoid using your bed for activities like watching TV, paying bills, or working, so your mind won't associate the bed with activities.
Avoid caffeine and stimulants after lunch.
Don't nap for more than 30 minutes or after 3 p.m. Avoiding naps altogether will ensure that you are tired at night. Longer naps disrupt the body's ability to stay asleep.
Maintain a dark, quiet, and cool room to sleep in.
Additionally, regular exercise, especially if not too close to bedtime, also helps quality of sleep and allows you to get more deep sleep. Engaging in some relaxing activities can also be useful, such as reading a book, listening to music, praying, taking a warm bath, deep breathing or meditation.
Need a helping hand?
Dr. Malhotra recommends that you prioritize your sleep (and health) even if you have a busy agenda, since getting a good night's sleep will make you more productive and more effective the next day. "I recommend that busy people set a regular bedtime and wake time and not alter their schedule drastically day to day. I also recommend they find a quiet and comfortable place to sleep. People should have a bedtime routine that involves a quiet and relaxing activity, and not bring their worries to bed with them at night," he explains.
Here are a few tips that can help you improve your practices and really get the rest you need.
Extraneous noise can disrupt your sleep, so if you can't create a quiet environment get earplugs
Half an hour before going to bed dim the lights and turn off screens.
Make sure you don't see the clock from your bed, watching the seconds tick away is stressful, not relaxing.
Coffee is not the only stimulant; nicotine, caffeinated tea, chocolate and alcohol can also alter your sleep.
Don't go to bed feeling hungry or overly full. Having drunk too many liquids can also make you break your sleep cycle.
Wake up naturally thanks to the morning sunshine; it'll help with your body clock, so keep your bedroom curtains light.
Improve your sleeping environment with a comfortable mattress and pillow.
If it's hard for you to slow down, try some relaxation exercises before going to bed.
Having poor sleep can also be caused by a health problem, so if you still feel unrested you should consider getting professional help. You can find a sleep professional here.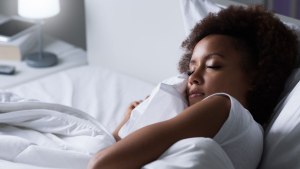 Read more:
This one tip could help you sleep better