Sends message to V Encuentro underway in Texas, a national meeting considering the gifts and challenges of Hispanics in the United States
Pope Francis praised the contribution of Latin Americans to US society, in a video message sent on September 21, to participants in the Fifth National Meeting of the Hispano-Latino Pastoral Care being held in Texas from September 20 to 23.
These pastoral meetings, the pontiff said, are a concrete invitation made to the faithful to go out to "foster communion." The Spanish-speaking faithful living in the United States must thus have "missionary impetus," strong in the "specific gifts" that they bring to the Church in that country.
The national meeting is the culmination of five years of study and planning, to consider the contributions and challenges of Latin Americans in the Church in the United States.
For the Successor of Peter, Latin Americans can participate in the "renewal" of American society and in apostolate in that country. This is especially the case with regard to the many migrants who live in "fear and uncertainty." These immigrants, the pope continued, need "community, friendship, and support."
According to the US Census Bureau, people of Latin American origin make up 18% of the US population; 48% of them are Catholic.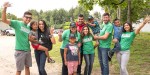 Read more:
This Catholic youth movement is trying to fill the needs of 2nd-generation immigrants