It might seem counterintuitive right now, but it's actually time to get even more serious about evangelization.
What can God do in your life with one Bible verse a day?
Subscribe to Aleteia's new service and bring Scripture into your morning:
Just one verse each day.
Click to bring God's word to your inbox
The best defense is a good offense.
That's true in football, it's true in war, and it has been true of the Church from the days St. Paul traveled the world preaching Christ up to the last World Youth Day.
In the face of the new challenges to the Church, I suggest we learn from the past. I suggest we go on offense.
To keep telling people, "most priests are faithful" is a great message as far as it goes. But to show you really mean it, here's an even better message: "I love my priest and I wouldn't miss Mass for anything. Will you come with me this Sunday?"
Sunday Mass isn't an "extra" in the spiritual life. It is a bare minimum requirement — but at the same time, committing to it is simple, doable, and transformative.
First, tell others how a commitment to Sunday Mass transforms your life.
An individual or family who makes the commitment to never miss Sunday Mass will see their whole life change. A family that goes to Sunday Mass becomes a part of something bigger than itself. That family opens itself up to a wisdom greater than its own and an agenda — namely, God's — this is greater than its own. Their new, transcendent perspective will touch every aspect of their life.
Or, second, tell them about modern martyrs for Sunday Mass.
The Third Commandment, to "keep holy the Sabbath day," is God's attempt to safeguard our peace. This is so important that elsewhere in the world, people are willing to die for it.
In China, despite persecution, Catholics are flocking to Mass. In Egypt, Holy Week services were full again one year after the Palm Sunday massacre. The sainthood cause has been introduced for Iraqi priest Ragheed Ganni who died because he refused to close his church.
Father Ganni once explained why Iraqi Christians fill churches despite bomb threats. "Inside of us for many generations one truth has become embedded: Without the Sunday Eucharist we cannot live." Those who return to Sunday Mass and live it to the full will start to see what he means, and wonder how they ever lived without it.
Read more:
Meet the 4th-century martyrs Pope Francis mentioned today: "We cannot live without Sunday"
Third, Mass is great family time.
Everyone is going in different directions throughout the week. Even families who want to eat together daily find they can't, because of work, school, sports and activities. But it is easy to free up an hour on Sunday (or Saturday evening) to go to Mass. Families who go to Sunday Mass will always remember the special time they spend together, for a purpose.
Fourth, Mass offers Bible guidance.
Archbishop Charles Chaput tells the story of an actor who had to play a pagan Roman. In researching the role, he was shocked by the routine brutality of pre-Christian Rome. It made him realize how many of the virtues that we take for granted, like fairness, tolerance and kindness, came from the Christian faith.
Our own lives would be utterly different if we had no exposure to the Scriptures — and they will be even better the more exposure we get. The three Scripture readings at each Mass are concise packages of life-changing wisdom.
Fifth, tell them to do it for others.
Even if during certain periods of our life it seems that we are getting nothing out of Mass, our going every Sunday still helps lots of other people.
Parents do their children a great service by taking them to Mass. On the one hand, our excuses for skipping Sunday Mass will become lifelong principles for them. On the other, our insistence that we always go to Mass will make a permanent mark on them.
But a lot of other people will be helped by our Mass attendance. If you go every Sunday your neighbors know it, and it gets them thinking. People who drive by the church see how full it is, too. And people in church also appreciate seeing you.  It helps all of us to see you there each Sunday.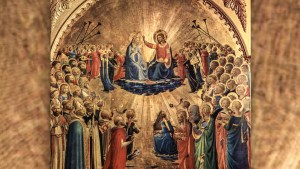 Read more:
Why you're part of the Communion of Saints even before you reach Heaven
Sixth, Jesus is there.
Jesus is truly present in the Eucharist. No, you don't see and talk to him in human form, but you are definitely there with him. And that's enough.
People often tell stories about being near the "real presence" of significant people. If you say "I saw the pope," people ask, "How close did you get?" My mother stood behind Paul McCartney in line once, and excitedly told the story for years.
Well, Jesus' presence is even more powerful than Paul McCartney's or the pope's.
Seventh, it was his dying wish.
Imagine you were confronted by a gunman and your friend threw himself in front of the bullet to save your life, gasping out the final words, "Remember me every Wednesday" before he died.
You can bet you would make sure that, no matter what, you would remember that friend every Wednesday.
Jesus did exactly that, saying, "Do this in remembrance of me," at the first Mass, and then suffering Satan's attack so we wouldn't have to. You want to honor the wishes of a friend like that.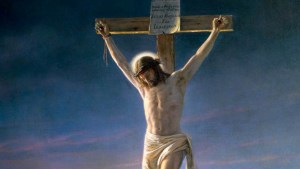 Read more:
What is "atonement?" Who does it? And what does it mean for me?
Eighth, Mass is better than mountains and trees.
What people say is absolutely true: Often, we can feel closer to God out in the great outdoors than we do at Mass.
But there are two things to remember: First, these "moments of natural grace" are rare and unpredictable. We can't schedule them very easily. Second, awe at Christ's real presence beats the awe at nature any day. But it takes more time to train ourselves to appreciate it. We can train every Sunday.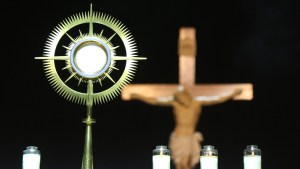 Read more:
How I began to believe that the Eucharist really is Jesus