Grab your phone and be a voice for the voiceless.
Do you know why you're pro-life? Are you willing to pick up your phone and share your reasons with the world? A new campaign is inviting the voices of the #prolifegeneration to let the world know all the reasons people are pro-life.
The campaign is a project of Human Life Action [HLA) — the official national pro-life grassroots organization of the U.S. Catholic bishops. HLA is inviting anyone and everyone to share why they're pro-life in a 30-45 second video.
The campaign is a grassroots effort designed to show as many people as possible that there's more than one reason why so many people believe in the right to life for every human being, beginning in the womb, and want to be a voice for the voiceless.
"Our goal is to reach 100 'why I'm pro-life' videos to share on Facebook, Twitter, Instagram and YouTube," says HLA's social media director, Luke Faulkner. "It's a simple idea, and yet, it really is a grassroots approach; there has been a lot of reaching out to individuals, groups, and organizations to participate in this campaign."
There's one week left to get your video in — this coming Friday, August 31, is the deadline.  Many well-known pro-life advocates have already taken part in the campaign, including Jeanne Mancini of the March for Life, Bishop James Conley of the Diocese of Lincoln, Catherine Glenn Foster and the Americans United for Life team, and a large number of regular people dedicated to defending and protecting the sanctity of life.
Send your 30-45 second videos to the campaign and they'll feature you on social media. Message them on Facebook or Instagram, or email them at info@nchla.org for more info about sending your video.
Archbishop Joseph F. Naumann of Kansas City says he was happy to participate in the campaign. "It is important for leaders and individuals to support publicly their desire for our nation to protect the innocent lives of unborn children and mothers and fathers from carrying the burden of having allowed the killing of their child — there is no other issue that destroys and scars so many lives."
Here's Bishop Felipe J. Estevez of the Diocese of St. Augustine, FL, sharing why he's pro-life: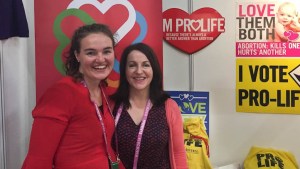 Read more:
Irish pro-life organizations seek to build-up a new culture of life