Ecumenism of blood is the most profound way to reconcile us: Cardinal Ouellet.
Cardinal Marc Ouellet, prefect of the Congregation for Bishops, presided this week over a prayer vigil at the Basilica of Santa Maria in Trastevere in Rome in memory of Christians who have recently sacrificed their lives. "Ecumenism of blood" is "the most profound path of reconciliation" between Christians, said the cardinal, who granted us an interview on this occasion.
Why was it important to organize a prayer vigil of this kind?
It is essential to remember contemporary martyrs. We have never had as many Christian martyrs as in the present day: they give their lives for Christ and to bear witness to the Gospel. I believe that, as part of Holy Week, it is a beautiful gesture, a very beautiful initiative that should make us meditate on the Passion of Christ, on his death and resurrection.
Why place this evening under the sign of ecumenism?
Our time is one of "ecumenism of blood," as Pope Francis calls it. The most profound path of reconciliation among us Christians is indeed to testify in unison through the supreme witness of the gift of life. It is what brings us closer to Christ and therefore what brings us closer to each other.


Read more:
Pope Francis to Coptic Patriarch: "We are united in the blood of our martyrs"


To which parts of the world was this vigil particularly directed?
Tonight, in the Basilica of Santa Maria in Trastevere, we have referred to all the continents. However, it might be that this evening focused in a special way on forgotten martyrs, as those in Burundi, where a conflict is raging. Or in Yemen, and of course in China.
Read more:
Why researching 20th-century martyrs is surprisingly exhilarating
Read more:
Pope says there's urgency in finding communion with Orthodox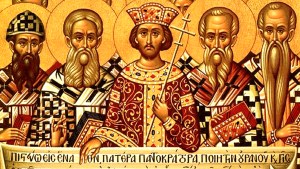 Read more:
What you need to know about the Orthodox-Catholic split and hopes for reunification