This beautiful parting gift has a few words of wisdom for us all.
When Peggy Summers discovered she had terminal cancer aged 55, she knew she had to perform one final duty as a mom: impart her wisdom to her children — from the practical, to the emotional, and most importantly, the spiritual. So before her death, Summers managed to type a letter to each of her children, including her teenaged daughter, Hannah.
The letter was so moving that Hannah, a trainee nurse, decided to share it on her Twitter account, reminding her followers: "Please hug your parents a little closer and never take them for granted because you never know when you could lose them."
Hannah explained to The Telegraph that she decided to share her mother's very personal letter because "the more I read it the more I felt like I had to." She added, "There's no better example of the type of person my mum was — so caring for others and always worried about others before herself."
Hannah also acknowledged how difficult it must have been for her mom to write these parting letters to each of her kids, both physically and emotionally, but "she did it because she was way more concerned about us than herself."
It's a letter primarily of love and understanding, of gentle guidance and acceptance. A beautiful parting gift from a loving mother. As heartbreaking as the letter is, we can only take comfort that mom will never be far away, as Summers wrote: "I will be smiling with you through all the important moments in your life."
It's worth taking the time to read the whole letter, as we're pretty sure there might be a few words of wisdom for us all:
"Hannah,
If you are reading this, then the surgery did not go well. I'm sorry, I tried my best to beat this terrible disease but I guess God had other things for me to do. Please don't be mad, bad things happen in life and we have to learn to deal with it no matter how much it hurts. I want you to be happy and use the gifts God has given you.
You will be a wonderful nurse just as you are a wonderful person. Study hard in school, don't worry about a job. If you want to work in the summer fine, but you need to really concentrate on school. Be patient with Dad, this is going to be hard on him and he will need time. You both need to lean on each other and talk a lot which is not one of our strong points, but try and don't give up. Remember you have a lot of people who love you so talk to them often.
Use your common sense about things like not going anywhere by yourself and having an emergency kit in your car in the winter. If you can carpool to school do it, stay away from parties because they are usually bad, not all boys are bad but most will tell you anything to try to get you to do things, try to hang out with people who have the same beliefs as you because they will make you stronger.
Remember that I am still with you and still just as proud of you as I always have been. Keep God in your life and never be ashamed to let others know you love God. If you have kids someday, make sure they know how much I love them and wanted to be there to see them.
Mom"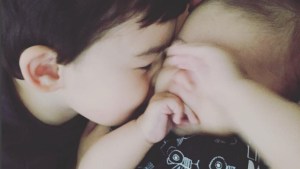 Read more:
Three-year-old boy melts hearts as he comforts dying baby brother
Read more:
A letter to my daughter, now a mom