How to prepare emotionally for childbirth
Nine months go by quickly – really! I didn't believe it until I lived through it. We all know, or at least intuitively feel, that we need to start preparing for the arrival of our new little family member a little earlier than just the last few weeks before the due date. If you are still in denial, your loved ones, family, or parenting classes will quickly help you face reality.
All those people and institutions will give you a comprehensive guide to the hospital bag: two nightgowns, three pairs of undergarments, a baby outfit, documents, etc., which you should put in a bag sometime during the second trimester, and keep in an easily accessible place. They will also tell you how to prepare your body for this important event, and inform you about the formalities.
But not many people will tell you how to prepare for childbirth emotionally, spiritually, or simply as a woman.
Be beautiful!
If it is important to you, take care of your appearance. Believe me, you will not have too much time for — or even the will to think about — a beautician or a spa day after the baby is born. If you feel the need to, go to a hairdresser, and get a great haircut and a manicure, in the immediate lead-up to the expected date of giving birth. Be careful with the manicure, though, especially if you might have a C-section. During surgery, your pulse and oxygen level are tested using your finger and a pulse oximeter, which according to some studies, may not be very accurate with dark nail polish.
Childbirth is a sufficiently uncomfortable event that, if you can do anything to favor a sense of comfort, even if it's just a little detail that makes you feel better, it's worth doing. I know women who, in some magical way, were able to suffer through those first, less intensive contractions long enough to have makeup done by a professional. Odd? Complete excess? Who thinks of makeup during childbirth? Well, the fact that you are getting ready for the first meeting with one of the most important people in your life can really change your perspective.
Birthing gown
For the same reason, the gown/dress you will wear for the big event is important. For many women, it will be provided by the hospital. For those who are planning a home or birthing center event, there are choices. Of course, it should be comfortable, made of soft, gentle fabric, and most importantly, it should be functional, made for nursing the baby in privacy.
Luckily, the times when women had to give birth in whatever they happened to have on hand are long gone. Today, we can wear not only special childbirth gowns with strategically placed openings, but also special, beautiful birthing gowns. You just need to do a quick internet search — it's worth it. Keep in mind you don't really have to have a special gown; you can simply wear a comfortable dress you like.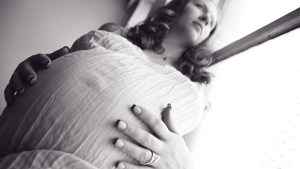 Read more:
Prayer of an Expectant Mother
Nice, warm and cozy
Your surroundings are just as important as what you will wear. Here, often there isn't much room to maneuver, but … If you know you will be in a single room, you can make it a bit cozier by bringing your favorite blanket or pillow.
So-called birthing rooms are probably the most optimal for those of you who would like to adapt the room to your needs. There, you can turn off the bright hospital lights and turn on a little lamp brought from home, light pretty smelling candles, and turn on your favorite music. If any of this is important to you and something you need in order to feel a little better in this situation, then you should find a way to make it happen.
The right companion
It may be obvious, but many couples leave the decision of who will be present at the birth till the delivery of the baby. Sometimes the woman does not want her husband to be there; perhaps she would prefer a friend, or her sister, or a doula to be with her. It's good to talk about it before you are on the way to the hospital. And it's important for those lucky people to be prepared for an unpredictable phone call in the middle of the night or in the middle of a workday.
Consider beforehand whether or not those magic moments are to be immortalized, and how. If you really want to have a short video of the first hug with the baby, make sure you tell your husband. If you want only photos, make sure he knows that too. Discuss what kind of shots you will and will not accept. And, most of all, have the photo equipment charged and packed! You can also use the services of professional photographers who are increasingly offering birth photography — very subtle shots, keeping your dignity and intimacy intact. Just remember to accurately explain your expectations.
Life has its own plans
Take all of this with a grain of salt, of course. Everyone knows that we prepare in a very special way for the arrival of a child. In our heads, we often have something resembling a Hollywood movie script, scene by scene, how everything will happen. And that's great, but just remember that life doesn't follow our plans.
I don't want to take your fantasy away; I just want to remind you that you need to be prepared for the unpredictable. And I don't mean only the difficult situation when a woman didn't even consider a C-section and it turns out that it is medically necessary, but simply the fact that, in those magical moments, life writes its own script.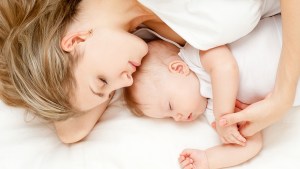 Read more:
10 Popular breastfeeding myths … debunked
This article was originally published in the Polish edition of Aleteia, and has been translated and/or adapted here for English-speaking readers.