Many claim that the devil is most powerful during this time period.
Horror movies and paranormal TV shows frequently talk about the "devil's hour." Depending on the source this can be referring to the time between from 3 a.m. to 4 a.m. or the hours between midnight and 3 a.m. In either case, many claim that the devil is most powerful during this time period.
This idea seems to have sprung from the awareness that Satan loves to mock God.
The Gospels of Matthew, Mark and Luke tell us that Jesus died during the "the ninth hour." In modern calculation this would be 3 p.m. According to this idea, Satan then flips the symbolism on its head by taking for himself 3 a.m., in direct mockery of God.
Another reason that this time is considered a source of unusually high demonic activity is the fact that it is in the middle of the night; the sun has long been set and will not rise for a few more hours.
Scripture repeatedly refers to night and darkness as a time of sin. This concept is perfectly summed up in the Gospel of John, "And this is the judgment, that the light has come into the world, and men loved darkness rather than light, because their deeds were evil. For every one who does evil hates the light, and does not come to the light, lest his deeds should be exposed" (3:19-20).
Also, Jesus was betrayed by Judas during the night (sometimes thought to be at midnight) and Peter denied Jesus before the "cock crowed" (about 6 a.m.). This would mean Jesus' "trial" before the Sanhedrin occurred during the "devil's hour."
There is a little biology operating here, too, as 3 a.m. marks the point of deepest nighttime sleepiness in the normal adult sleep-wake cycle. To awaken or be awakened at the hour can unsettle our circadian rhythms and make us feel low or anxious.
Many have a personal practice of saying a few prayers if they wake up at 3 a.m. But remember, no matter what the time of day, God is always more powerful than Satan, and remains the "light of the world" that will shatter any darkness.
Read more:
Satanic priest turned saint, Bartolo Longo is proof that no one is too lost to be found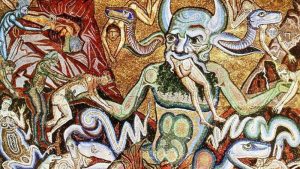 Read more:
Vexed and possessed: 7 saints who battled Satanic attacks