With a few ideas if you are looking for love ...
Summer vacations aren't always as much fun as you'd like when you're single, even if you find yourself surrounded by loving family. You may go on vacation hoping for some peace and quiet after months of work at your office, but sometimes tranquility is the last thing you'll find. It may not be as easy as you'd like to lie back and soak up the summer sun without getting splashed or trampled. So here is a list of seven rules to help you have a great summer … and a few ideas if you're looking for that someone special!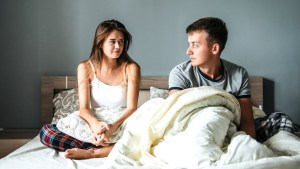 Read more:
Chastity and the double standard among Christians
1. It's your vacation: don't let people tell you where or when to take it.
Some people get frustrated when their employers think they can plan their vacations for them just because they are single: "You don't have any kids, so you won't mind working Labor Day weekend, right?" Well, if you're in that situation, get ahead of the vacation planning and start negotiating. "Okay, I'm a dedicated employee, so I'll work those long weekends— but in return, I want a week to spend in the mountains, outside the school break, to avoid the crowds and peak prices." Talk to your boss early on, so you can work out something that works for everyone.
2. Meet up with other singles … you may even find love!
Are you feeling listless or lonely because your friends are all out of town? Why not open your laptop (or download an app) and start getting involved on the numerous Catholic dating sites out there. For example, different sections of Catholic Singles organize mixers to help you find like-minded individuals. There's also Meetup, an app and website designed to help you get together with groups of people with common interests; you might be able to find activities with other Catholic singles in your area, or even all over the world. So if you happen to be alone on a trip to Paris, check in and see what's going on. You may end up finding your own Prince Charming in the city of love!
3. Look after your beloved parents … but don't be the only one.
Of course, you want to do your share, but you also have to defend your interests. Just because you're not part of a couple doesn't mean you can be a full-time caretaker for your elderly parents. Of course you love them, but you're not the only one responsible for caring for them during the summer. Have a good chat with your brothers and sisters before vacation season starts to plan and share responsibilities and to avoid any unfair expectations, so feelings of resentment don't build up.


Read more:
Single and Catholic


4. Get off the couch!
Get moving — and not just to the gym! There's nothing forcing you to watch those endless re-runs of Friends on TV, or to sit for hours in front of a video game with a bag of chips. There are many organizations that need your talents to help change the world. (An added bonus: looking further than the end of your nose can be one of the best anti-depressants.)
The summer months provide an ideal opportunity to get involved in a project that will help you meet others who share your values and passions. Whether it is simply joining a cooking class, or volunteering with a charity helping the homeless, there is something out there for you.
If you're stuck for ideas, try visiting your local library, or go online, and see what's happening in your community or farther afield. Catholic Volunteer Network is perfect for finding some worthy causes that will match your skillset. They can help you find opportunities to serve others full-time, from one week to three years. Catholic Relief Services are always looking for volunteers to help out on programs such as Farmer-to-Farmer, helping to provide food for those in need all over the world. You can also try your local diocesan directory to see what part-time help you may be able to offer. Just think how even a day devoted to others can help make a difference to their lives, as well as yours!
5. Thou shalt not scold other people's kids …
If you go to stay at a friend's house overflowing with kids, or with your own extended family, your motto should be: "See no evil, hear no evil, speak no evil." Trying to teach your nephew a few table manners will be a fine way to get your sister-in-law's back up straight away. The same holds if your cute little niece adds her artistic touch to the living room walls. Your chosen phrase to use when speaking to the parents of these sweet little devils could be, "Look how playful they are!" It's a safe formula that can be said in all seriousness but cannot be taken as criticism.
6. A little planning will make family visits a time for joy.
It's a good idea not to take the bedroom next to your baby niece or nephew, who still isn't sleeping through the night. Or the recent newlyweds who … well … You need to rest, so make sure you make these arrangements before you arrive, if possible. Don't let the fact that you are single mean that you have to be the odd man out. There's nothing stopping you from being the playful aunt or uncle full of great advice. We all have great childhood memories of some grown-up who spent time with us, whether it was to go fishing for the first time, or to share some lemon pie late at night. In a way, you can have more fun with your nieces and nephews than their parents can; you aren't responsible for educating them or teaching them discipline. So, while respecting the rules and boundaries set for them by their parents, feel free to dish out those extra scoops of ice cream laden with sprinkles, to engage in water battles, and to enjoy other childlike activities that will help you build a beautiful bond with your young relatives.
7. A retreat can offer the perfect break
Taking the time to go on a retreat is guaranteed to help you rest and renew your faith. There are usually plenty of retreats out there; you can look to websites such as Catholic Retreats to help you find one in an ideal location. If you want a bit of company, don't be afraid to look to your parish church and see if there are other like-minded singles who'd like to arrange a group retreat.
During vacation season and beyond …
If you want to meet up with other Catholic singles and discuss all the joys and pitfalls of being single nowadays, why not book a few days off from work to go to the National Catholic Singles Conference in Phoenix, Arizona; this year it's being held from September 29 to October 1. And if by any chance you do happen to meet your future spouse, then we'd be delighted to have helped in a little bit of matchmaking!
This article was originally published in the French edition of Aleteia, and has been translated and adapted for English readers.